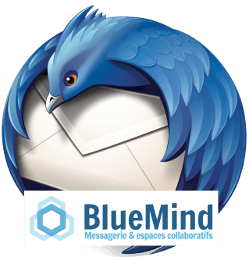 A frequent obstacle to the adoption of an Open Source mail server is the predominance of Outlook as a thick client because Outlook always works differently – and therefore more or less smoothly – with severs other than Exchange… until BlueMind's soon-to-come innovation which will bring native Outlook support!
This is a matter of user habit, but this is also due to a virtually inexistent offering of good open source, multi-platform email clients (for email and collaboration).
The most popular open source email client is Mozilla's Thunderbird which runs on Windows, Mac, Linux and others.
But although Thunderbird is a good email client, it is a poor collaborative client. Its calendar feature is provided by an extension – Lightning – which has never been entirely satisfactory for enterprise use (in terms of ergonomics, performance, etc.): users fail to understand having to use two different interfaces with different ergonomics and features depending on how they access it (web or thick client).
BlueMind offers comprehensive, user-driven Thunderbird management, which precisely addresses these issues.
Discover Thunderbird as BlueMind's natural thick client!
Continue reading "BlueMind turns Thunderbird into a true collaborative client!"