Commissioned by CNLL, Syntec Numérique and Pôle Systematic Paris-Region, Teknowlogy Group has unveiled 2019 European and French open-source market figures and growth forecasts. This study covers usage analysis and the role of freeware in businesses – in particular in innovation – based on interviews with 117 organisations in France in the fourth quarter of 2019. It is completed by a comparison of the situation in France with several European countries.
Digital transformation is boosting the open-source market: the freeware sector in France is expected to keep growing significantly – 9% per year – until 2023, which is above the average for the IT market as a whole – around 4% in 2019-2020. In almost 80% of companies, the use of open source will grow in the next two years. France – closely followed by Germany and the UK – is keeping its position as Europe's biggest market. It is also the market where the share of open source remains higher as a percentage of the overall IT market – over 10% (v. 7% in Germany and 7.4% in the UK).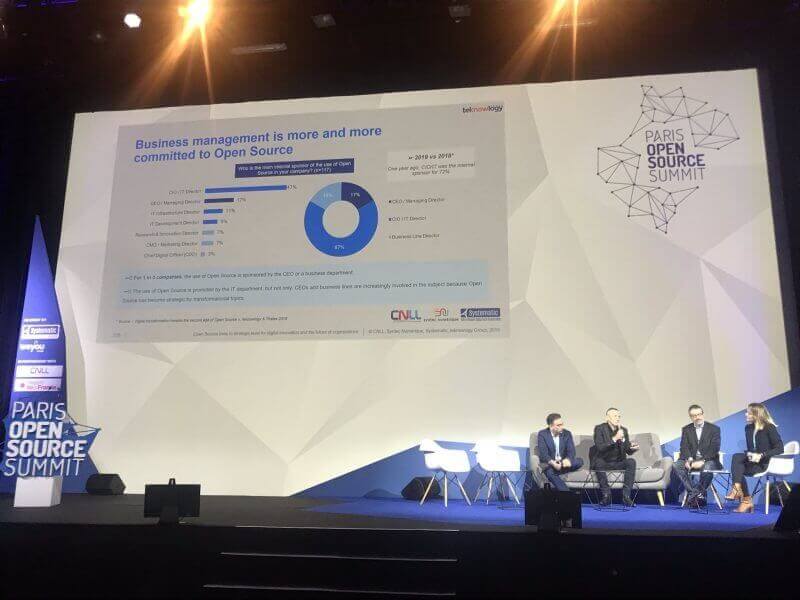 Presentation of the study at the Paris Open Source Summit
Open source, a strategic component in organisations' change:
A key role in digital transformation strategies and the implementation of innovative technologies. For 9 companies out of 10, freeware is important or preferred when used for AI, data management and blockchain.
Company managers and departments are increasingly committed to open source. They sponsor the use of open source in one in three companies.
Freeware meets the need for customisation and technological independence. These are the two primary reasons for companies to adopt open source technologies, followed by cost reduction, improved information systems and software reliability, and better interoperability.
Open source is seen as an asset for the European digital industry. About 8 companies out of 10 believe that the Old Continent is leading the way in the field of open source and its adoption.
"The growth of open source isn't waning and remains high – at almost 9% per year – which is significant for a market now worth €5bn in France and over €26bn in Europe, applauds Marc Palazon, chairman of Syntec Numérique's open-source committee. With such a dynamic, open source is set to account for 60,000 jobs in 2020 and probably 70,000-80,000 jobs by 2010, which is outstanding".
"Open source is being recognised as a true 'digital Swiss knife' in organisations' digital transformation and innovation strategies, says Philippe Montargès, chairman of the Open-Source Hut at Systematic Paris-Region. Even in the most promising fields such as AI, data management and blockchain, open source is overwhelmingly approved by 90% of companies interviewed".
"Europe is in the lead relative to the rest of the world in terms of available open-source skills and adoption, emphasisesStéfane Fermigier, co-chairman of CNLL. The European Commission therefore has a key role to play in helping consolidate this trend and allowing European freeware companies and vendors as well as service providers to use it as a competitive advantage".
The full study (40-page pdf) is available on the CNLL website.
Extracted from a CNLL press release.