Since its very beginning, BlueMind has adopted a software development approach centered on user satisfaction. We know that when it comes to email, the transition towards a more sovereign and healthy digital environment requires placing user comfort and habits at the heart of all considerations.
Let's delve into the world of BlueMind 4.9 and discover how this version completes the user experience, particularly for users coming from the Microsoft environment, by improving productivity, comfort and day-to-day satisfaction.
Advanced search
BlueMind 4.9 features a powerful search mode, enabling multi-criteria and full-text searches (body and attachments) of message content. Among the new features, the default search space targets the current folder, and you can simply extend it to all folders in your mailbox or the current shared box, or limit it to your inbox.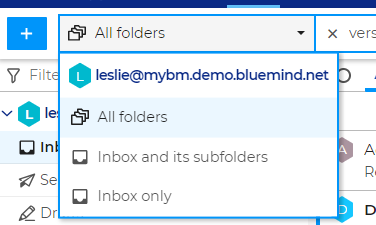 In addition to the quick search already available in BlueMind v.4, you will now have access to a complete multi-criteria search form: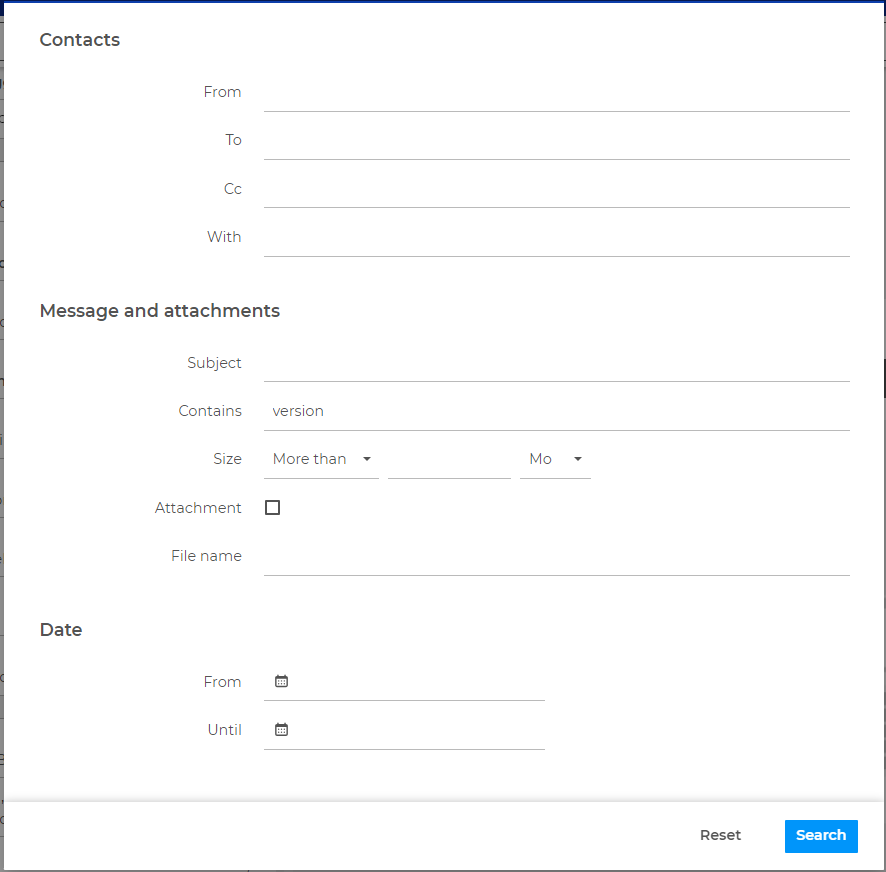 Using this form, you can refine your search by specifying filters on sender, recipient, date, subject, attachments and much more. BlueMind's advanced search tool offers you a faster, more precise and convenient way to find and organize your emails, saving precious time every day!
For advanced users it's possible to place search request directly in text mode. See an example in this image with a search on "from:geralt date:[2023-06-25 TO *]", which indicates that the sender must be "geralt" and an e-mail with a date greater than or equal to June 25, 2023.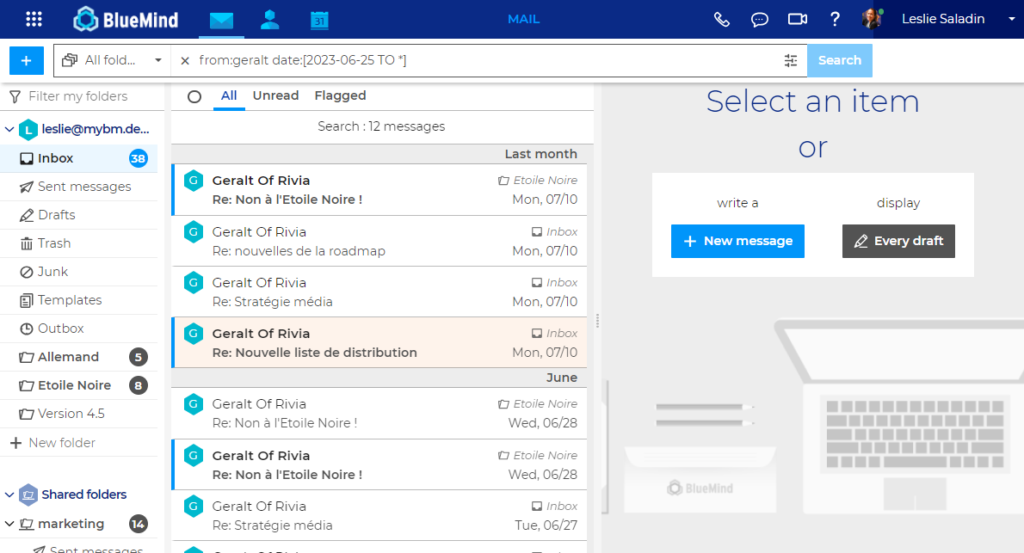 Contacts: better webmail integration
Simplified view of contacts
BlueMind 4.9 offers a view of key contact information directly from message recipients. This information box appears when you click on a contact's address, making it easy to use or retrieve the various pieces of information.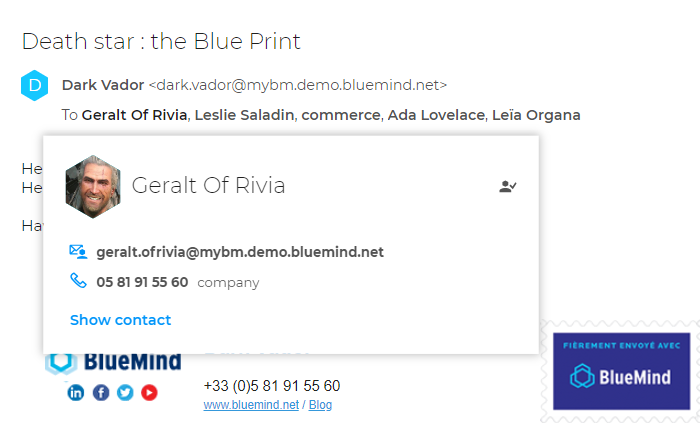 Clicking on "View contact" gives you direct access to the contact's entry in the directory, containing all the information available about him/her in your BlueMind.
This display is also possible on the webmail mobile version.
More efficient contact autocompletion
The contact autocompletion engine in the dialer now offers more relevant results and an intuitive interface enabling the user to exclude results or extend the search: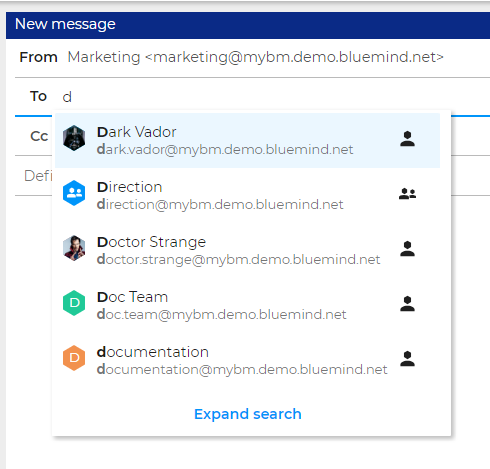 Autocomplete proposes addresses from all the user's directories, whether personal or shared. Contacts appearing in this list are sorted by relevance. A contact's relevance score depends on the number of messages sent to it and the latest date of use of this address. So, for two contacts to whom the same number of messages have been sent, the most recently used appears first in the list of suggestions.
Simplified, direct access to address book to find recipients.
An address book can be opened directly from the webmail by clicking on the "To" field to easily select recipients (available from 4.9.2).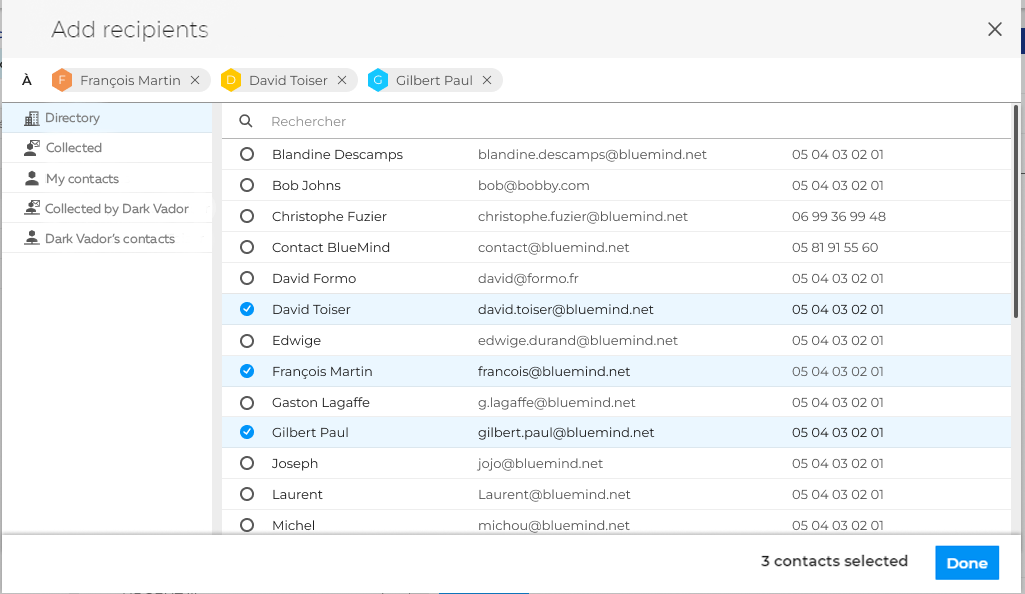 Delivery receipt and read confirmation
It is now possible to request "delivery receipts" and "read confirmations" for sent messages, and to reply to "read confirmation requests" in received messages.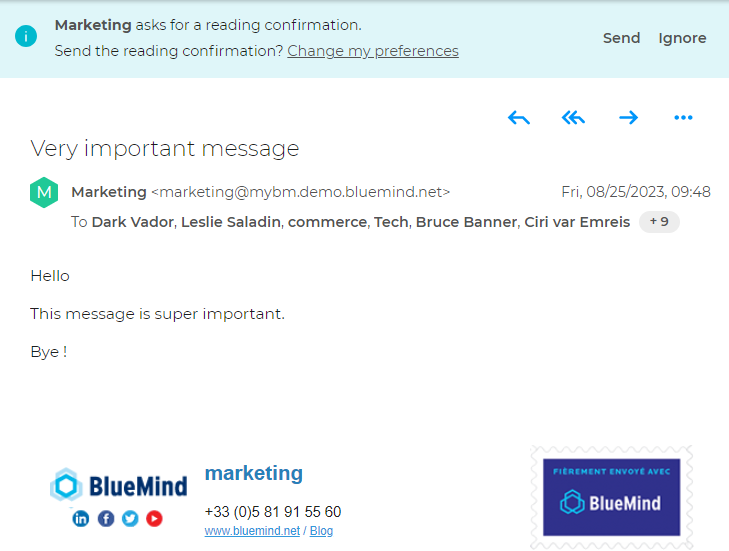 Requests and responses can be made manually or automatically for every email sent/received. Each user can choose the behavior he or she wishes via parameter management.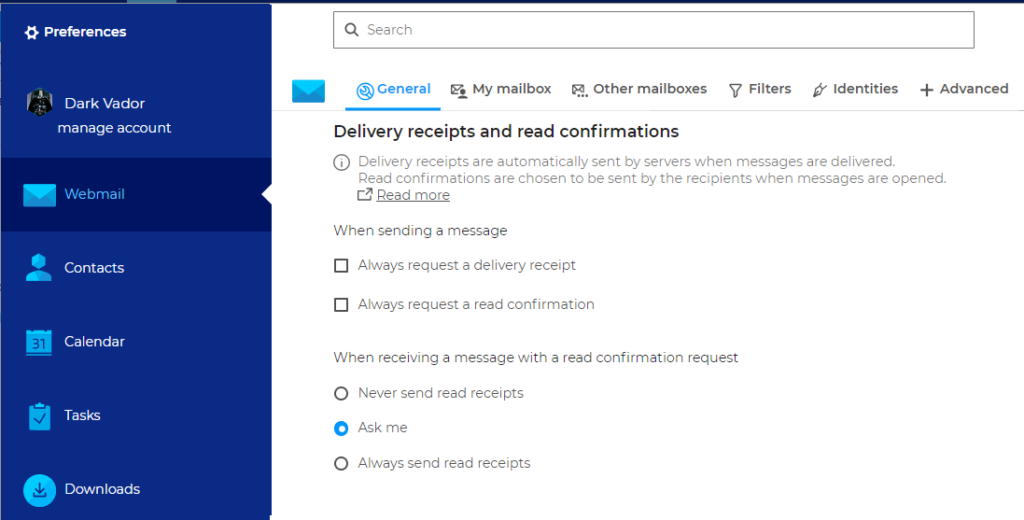 Dialer interface improvements
The message composer's interface has been further enhanced to offer a better user experience with smoother, more intuitive behaviors. These include :
indent text using the tab key,
customization of fonts available to domain administrators,
the ability for each user to define a default font from among the available fonts,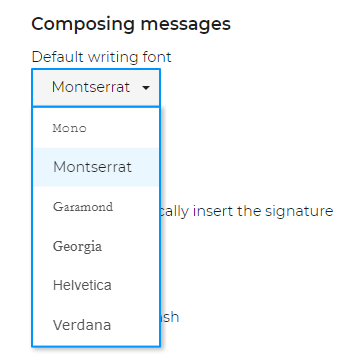 Expanded collaborative perimeter
Calendar
To further enrich the uses of the calendar, we also enable the integration of third-party appointment scheduling tools. BlueMind 4.9 can interface with appointment scheduling tools such as Vyte, Cal.com or Simplymeet. Read the full article here.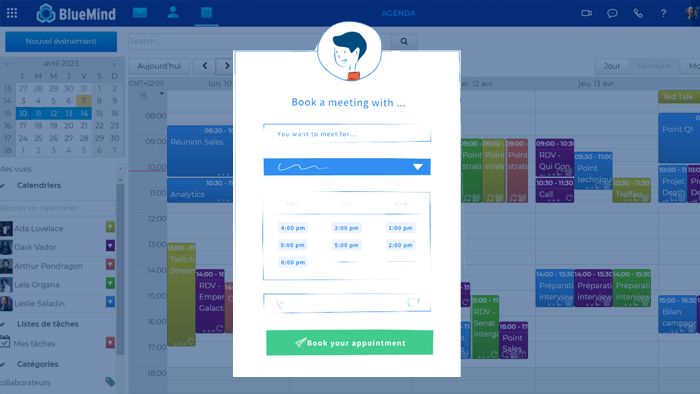 Videoconferencing
BlueMind 4.9 can be connected to external videoconferencing systems, enabling users to easily create virtual meeting rooms (videoconferences) and link them to their calendar meetings, without having to switch tools. Integrations have been made with Webex and Zoom (4.9), in addition to Lifesize and Jitsi, supported since BlueMind v.4.

How can I benefit from BlueMind 4.9?
BlueMind's 4.9 version is an update designed to improve the usability of our webmail, enhancing your day-to-day efficiency by providing a fluid user experience and email management. To take advantage of these new features, don't hesitate to contact our team.