Being open source is one of BlueMind's strengths. It allows it to integrate with other bricks and IT applications, in particular CRM software such as E-Deal and Salesforce.
Here is a client case study illustrating the integration of BlueMind with the CRM software Salesforce.
Integration with Salesforce essentially involves:
• The synchronization of BlueMind data with Salesforce data,
• The CRM being fed the email messages in connection with current business,
• simple and easy access to the CRM's contacts and companies in the BlueMind Contacts application.
This client has been using BlueMind for over a year and its sales teams use Outlook with BlueMind. Sales staff must, from Outlook, interact and feed Salesforce. Communications with prospects and clients essentially go through email.
In the course of their sales work, users themselves currently identify the email communications that are useful to the CRM software. They therefore need an easy way to enrich the CRM using their emails' data. New user interfaces are needed for this as well as for organizing, sorting and qualifying the information received by email.
Having looked at several Outlook plugins, we chose LinkPoint Connect for Salesforce. Unlike the plugin provided by Microsoft, it does not require the presence of an Exchange server. It is therefore fully compatible with BlueMind.
Configuration of the plugin
Outlook is already configured to use the BlueMind connector for Outlook, which is described here: The Outlook connector.
The LinkPoint Connect for Salesforce plugin must then be installed in Outlook. In terms of configuration, all that is required is the SalesForce log in credentials.
Outlook/Salesforce synchronization
By default, the plugin synchronizes events, contacts and tasks between SalesForce and Outlook. Through the Outlook for BlueMind connector, this same data (events, contacts, tasks) is automatically synchronized with the BlueMind server.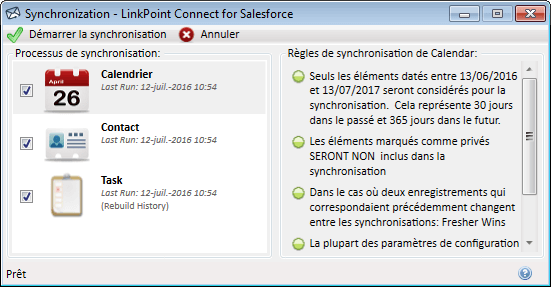 Using the LinkPoint Connect plugin
This plugin enables the following scenarios:
• You receive an email message about a business lead or sales opportunity: you can simply attach it to an opportunity.
• This message is expected to lead to interactions in the future: set up an appointment, get back to them, send information, etc.:  You can set up an action straight from Outlook which will be added to the CRM and fed back to the BlueMind Calendar or Tasks application.
• You want to contact one of your prospects in the CRM database. You can, in BlueMind, look for their contact card, send them an email message or, if you use unified messaging (such as BlueMind – Xivo), call them through a simple click.
Connecting a message to a contact
Say you are connected to BlueMind and SalesForce as John Doe and you receive an email from John Smith initiating a sales lead. If that person is not known to the CRM software, you can simply create a contact for them (and their company if necessary).
Once it is created or if it already exists, the plugin displays a pane showing its contact card and related information. In this pane, you can:
• access the full contact and company card, in SalesForce: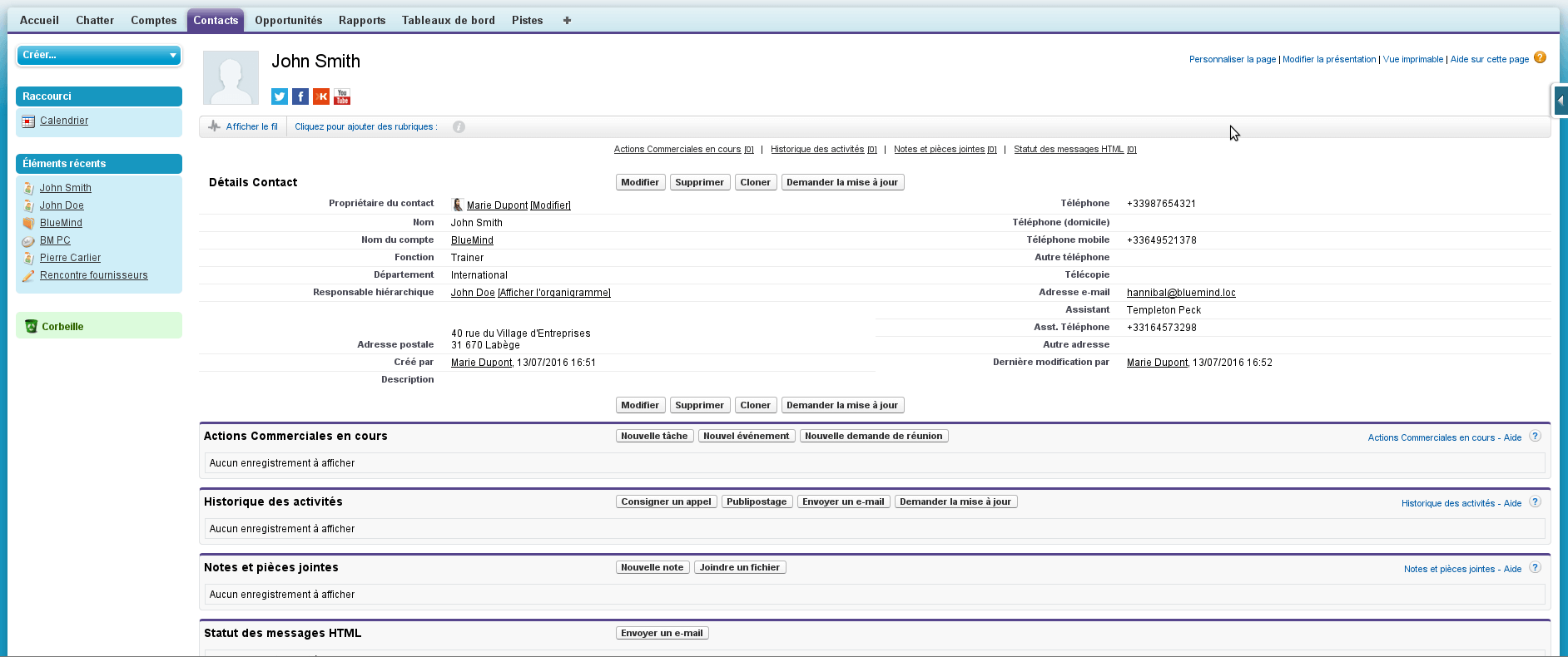 connect the email you've received to an opportunity (or lead depending on the CRM software's terminology) or to the contact:

start a new opportunity, connect the email to it and specify:
• other contacts in the company
• company/ies related to the opportunity
• attachment(s) that need to be kept
create new interactions (actions) related to the opportunity such as appointments, follow-ups, etc.
synchronize these interactions with Outlook and BlueMind: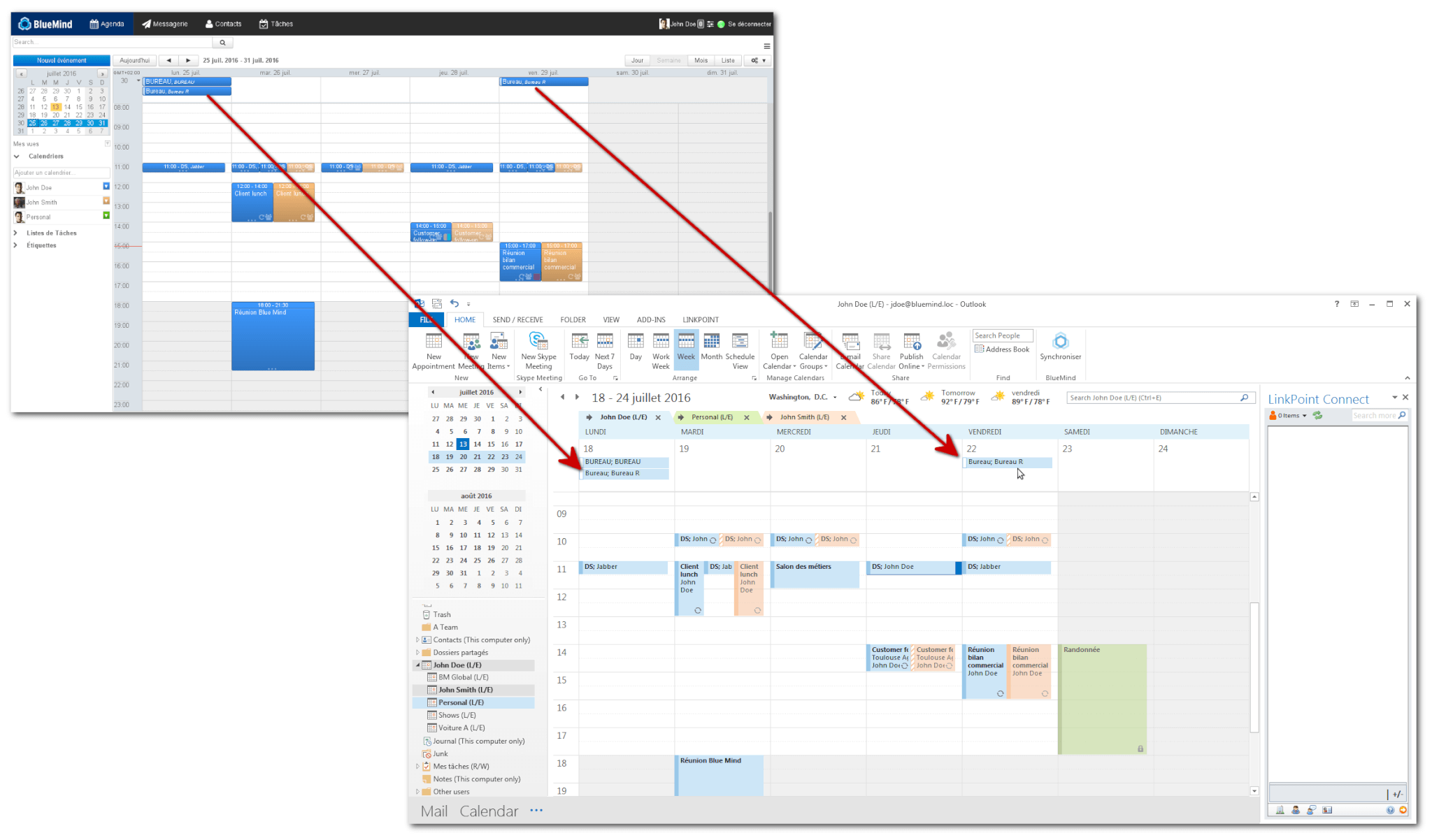 Simplified access to Salesforce contacts
Finally, you can synchronize contacts and companies from the Salesforce CRM in BlueMind address books:
• Either by feeding salesperson-specific address books with their own contacts (prospects, clients)
• Or by feeding a single address book for the entire sales team.
As a result, Salesforce contacts can be viewed and accessed in BlueMind to send email messages or use click2call.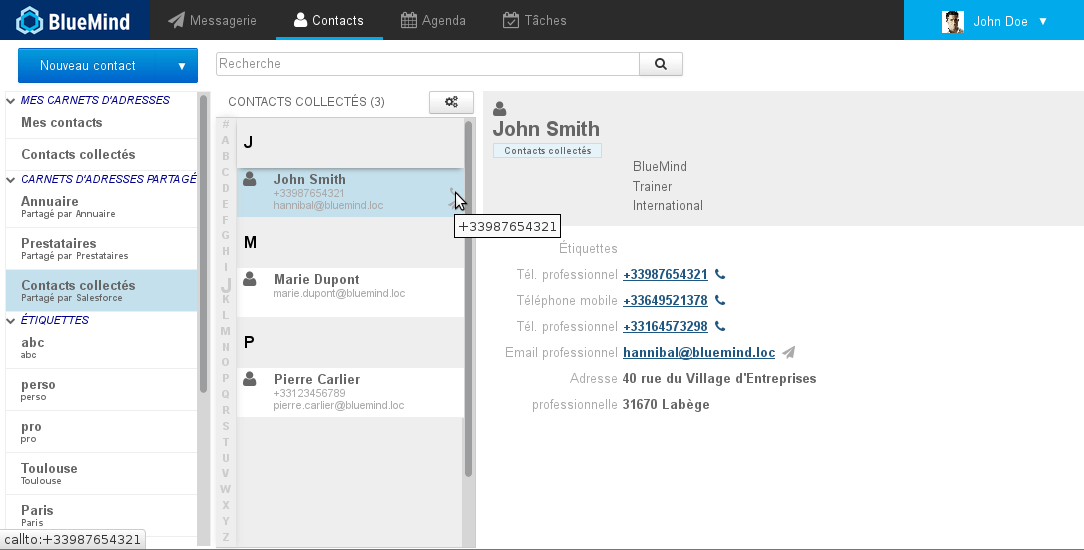 BlueMind and its APIs: accessible IT app integration!
Here is an example of how easy integration with BlueMind can be. Thanks to our APIs, which are open source and documented, such integration is easy and accessible for our partners and end clients alike.
Our marketplace includes new integrations and gateways that help make BlueMind and the IS easier to use for users.
In the next few weeks we'll talk to you about the integration project with the E-Deal solution which is underway for a major French insurance company…
Enregistrer
Enregistrer
Enregistrer
Enregistrer
Enregistrer