On the evening of 16 March, French President Emmanuel Macron gave a historic speech, punctuated with six "We're at war", announcing the first country-wide lockdown to fight the SARS-COV-2 pandemic.
Right away, the companies that were able to massively turned to remote work, a practice that was largely uncommon in Europe until then. As they scrambled to adapt to the new situation, some were forced into questionable choices in terms of ICT equipment. One year on, the pandemic isn't over, unfortunately, but we do have the benefit of hindsight on how to organise remote work in a time of crisis.
Digital sovereignty, a secondary concern…
The first observation we can make is that digital sovereignty isn't a priority when "we're at war". We already addressed this topic in a full article you can find here. The fact is that digital sovereignty took a huge hit in 2020.
Back in January, Le Monde newspaper opened with "Sovereignty is ubiquitous in the political debate".
Ubiquitous? Not quite. Like one famous small village of indomitable Gauls holding out against the invaders, digital sovereignty doesn't get a single mention. Nothing seems to have any hold on the monsters of global big tech, not even the health and economic crisis we are going through. On the contrary, they've been bolstered by it. Why would a few minor security concerns and data leaks stop European businesses from using Zoom?
Faced with the harsh reality of Covid-19, we've collectively realised the significance of European sovereignty for vaccine or mask manufacturing and the supply of some foods. But when it comes to digital technologies, we still try to tell ourselves that everything's going to be ok… Or at least that things aren't bad enough for us to worry. Digital sovereignty will probably become important the day a crisis forces us to.
Worse, some have used the "state of emergency" to rush to or migrate to Microsoft and the like (in particular public organisations), in contradiction with the official line and an alleged interest in local preference and sovereignty.
There are reasons for optimism, however, such as the report delivered by French MP Eric Bothorel to the Prime Minister on "public policies on data, algorithms and source codes" on 23rd December last year. This report, with the backing of the French National Free Software Council (CNLL), makes 37 specific recommendations "applicable within one year", including the development of a long term strategic vision for open source in French government administrations and providing the operational support required for its implementation.
It's a good first step in the right direction but it should be complemented by the development and support of France's ecosystem. And this begins with supporting the official line, i.e. buying open, sovereign solutions.
To be continued…
Email and digital incivility
You're in a hurry.
Between two phone calls you quickly reply to an email from one of your team members with a curt "Ok". What you mean is that you're ok with their suggestion but you haven't really taken the time to read or reply properly. But your direct report who gets this blunt reply is thinking "he's not happy, I'd better be careful".
The issue with emails, and remote work as a whole, is having to deal with written communications which are stripped of all non-verbal content, leaving you with raw, black and white words.
Although videoconferencing applications have been boosted by successive stay-at-home orders, email continues to be, by far, the main communication tool in businesses. According to Radicati (pre-pandemic) projections, 306.4bn emails would be exchanged in 2020.

The issue with the incivility they create is all too real. According to the report "Digital technologies: new sources of incivility at work", commissioned by the Civilinum research programme at the University of Bordeaux-Montaigne (MICA laboratory): "The degree of perceived incivility depends on the individual and the context in which the message is received. The perception of incivility is therefore strongly tied to tolerance thresholds and individuals' reference framework (an email in all caps may bother some people but not others), organisational context (the degree of tolerance within an organisation or an urgent situation), time and place of reception (one same email, read within a week's time, may be interpreted differently), but also the type of interface used (the same message may be interpreted differently depending on whether it is sent by email or text message, on a PC or a smartphone), etc."
You could also add to the list: CC'ing a manager in a conversation isn't inconsequential…
Digital incivility is one of the side effects of mass remote work as it can take a heavy toll on people's mental health. In May 2020, psychological issues were the second cause of sick leaves after Covid, according to Malakoff Humanis' annual sickness absenteeism barometer.
In times of remote work, people need to be extra mindful of manners with emails and written communications as a whole.
Remote work and surveillance
In a June 2020 article entitled "Remote work: you're being watched", French newspaper Libération shares the striking testimonies of several teleworkers who are being timed, surveilled or overworked by their employers as these try to make sure that their employees are not slouching in front of the TV watching a series.
In that article, Marc-Eric Bobillier-Chaumon, professor of psychology at work at the National Conservatory of Arts and Crafts (Cnam), describes the extreme pressure workers are placed under: "informal activities are being made formal […], as a result, the quantity of work is being assessed rather than quality". He argues that remote work generates a "pressure to be available" because of what he calls "panoptic surveillance". "This happens, for instance, when you use shared digital spaces, where anyone can watch what is being done. You have the feeling of being watched constantly […]".
Being active on a chat or logged into Teams can be seen as a confirmation of presence.
European legislation offers rather good protection for personal privacy and the right to disconnect, but companies, however, are still struggling to find their balance. If surveillance becomes a burden and has negative consequences on employees' health, then this is more an issue of managerial malpractice rather than work organisation.
It's fair to assume that this type of managerial dysfunction is made worse by remote work, but it isn't always a direct result of it. A controlling manager remotely was probably controlling in person. This crisis might therefore be praised for managers having to rethink controlling methods, as a Slate magazine points out: "[Increased use of remote work] is a strong incentive for organisations to develop a new proposition for manager-employee relationships, ensuring that the work gets done without falling into the excesses of hyper-surveillance, preserving the boundary between private and professional life. It is in the interest of organisations to gradually move from a culture of control to a culture of trust, and to focus less on the process and more on the result."
Mixed results for the environment
As WHO experts travel to Wuhan to investigate the origin of the virus, there is one thing everyone seems to agree on: climate change and health crises are intrinsically connected. "Emerging infectious diseases in wildlife, domestic animals, plants or humans can be amplified by human activities such as land clearing and habitat fragmentation" the French inter-governmental platform for biodiversity and ecosystem services (IPBES) predicted in 2019.
Undeniably, the forced shutdown of the world economy led to a drastic reduction in carbon emissions in 2020.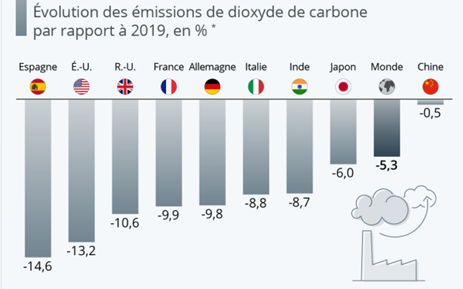 According to the French national institute of statistics, 1.5 million French people returned to their département of residence when the first lockdown was put in place. The city of Paris, for instance, had 451,000 fewer inhabitants during that time than on an average week before lockdown.
Although life went back to "normal" after the first Covid wave, the second wave was quick to remind everyone that they can continue to work from home, and, why not, from the countryside. There's even talk of urban exodus, or, more poetically for others, a return to the land (although medium-sized towns is really what draws people, not than prairies and barn houses). And there is a counterpoint to all this: "the countryside isn't near, you know…"
So remote work means that people move around less, but digital activities do have an impact on the environment – they account for 20% of greenhouse gas emissions (through data centres and network infrastructure) – which largely goes unnoticed, buried in the blind spot of climate policies, as we pointed out in this article. Videoconferencing, whose use boomed in 2020, is among the digital activities with the highest impact.
Email itself isn't to be underestimated either! One way you can reduce the number of emails your company sends out is to use email signature marketing instead of the traditional mass email. BlueMind has the perfect corporate signature application for this.
In addition, there are many good practices you can adopt to reduce the impact of your emails, such as sending large attachments as links, regularly tidying up your inbox, sending fewer images, etc. You can find a roundup of such practices here and here.
Wrapping up…
Just a year ago, the first restriction measures seemed surreal and were bound to be short-lived – the world after was going to be next month. Let's face it, "Covid is the new normal". We might as well live with it, be smart and adapt as well as we can.
The face masks and vaccine crises have shown us the price of letting our sovereignty crumble. Let's act now. Let's make the right choices and think long term.
We must be mindful of our online interactions as they continue to grow, particularly through emails. We must watch over our employees' physical and mental welfare.
We must make conscious choices and weigh their impact. Is this videoconference really necessary? Shouldn't a single copy of this large attachment be hosted online? Isn't this animated email signature too large and is it really worth it?
The BlueMind team is here to help you with your email projects and will be happy to share its experience. Do get in touch!