BlueMind's collaborative calendar is a productivity-enhancing tool designed with users in mind.
It's packed with great features, made to make your life easier and save time, and it works perfectly no matter how you access it: browser, mobile, Outlook or Thunderbird.
You can save different views or usage contexts, automatically search participant availability, propose a new meeting time, manage room or equipment bookings, group your external calendars, organise a videoconference, etc.
Let's have a look at some practical examples of how these features can turn organising meetings into an enjoyable experience.
Navigate between different team and group calendars in just a click using views
As BlueMind's marketing manager, I have a cross-functional role and I interact with all company departments. I'm a member of the marketing team, but I also work a lot with the sales team. I also belong to a group we call "expatriates", i.e. workers who aren't physically in the office.
With BlueMind's views I can juggle between the calendars of the groups I work with. I can display the calendars I want – the sales team's for example –, I can choose what period to display (day/month/week), and I can save that view for later. With just a click, I can toggle between teams and views.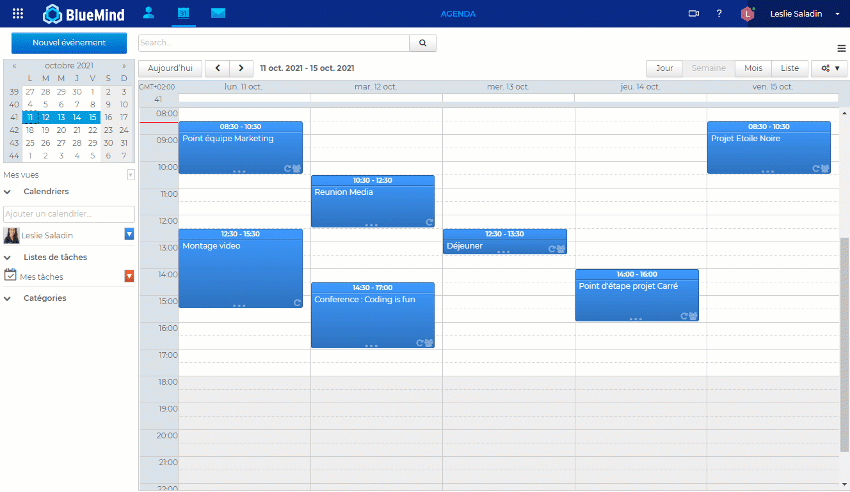 Find available time slots easily
I'm looking for an available timeslot for all the participants to a meeting I am organising. This can turn out to be quite a challenge when you have to find a match for many people. This is what BlueMind had in mind with the "Find a time" feature.
You can set up a meeting when it suits you best and invite the participants. If one of them becomes unavailable, BlueMind will let you know. Just click "Find a time" for an overview of participants' availability. You can move the meeting manually or ask BlueMind to autosuggest a timeslot when all participants are available.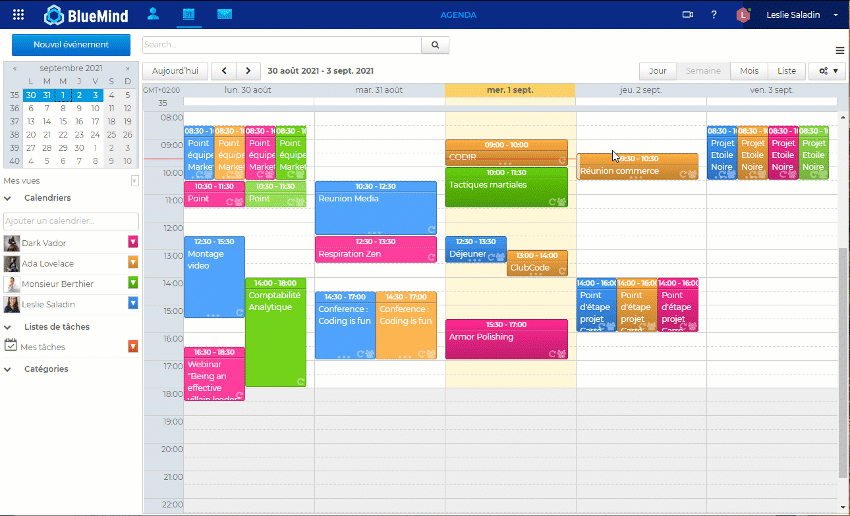 Book a room in the blink of an eye
In BlueMind, anything that can be booked is called a "resource" – vehicles, equipment, rooms, etc. you can create as many resources as needed. Administrators can define new types of resources and delegate their management to users. Just like for people's calendars, the free/busy feature lets you search their availability.
To book a room, you just have to select it when you set up the meeting. Depending on the settings defined by your administrator, the room's booking can be accepted automatically if it is available, or it will have to be confirmed by one of its managers.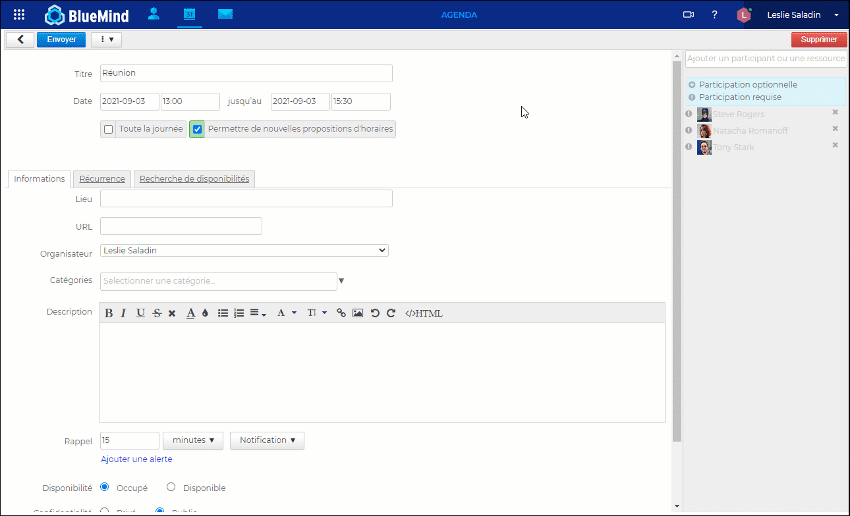 Videoconferencing for remote participants
At BlueMind, we have teams all over France: Occitanie, Alsace, Brittany, Touraine, Paris, etc. As a result, we often have online meetings.
BlueMind offers its own videoconferencing service, BlueMind.Video, and we've also developed connectors to support your existing videoconferencing system. Either way, the videoconferencing feature is seamlessly built into BlueMind mail and is easy to manage. Like any other resource, it can be booked and managed automatically and/or its management delegated.
All you need to do is click "Add a videoconference" in the event details and the meeting's participants will automatically receive an invitation with the relevant information and a link to the videoconference.
Organise videoconferences from BlueMind Mail or Calendar.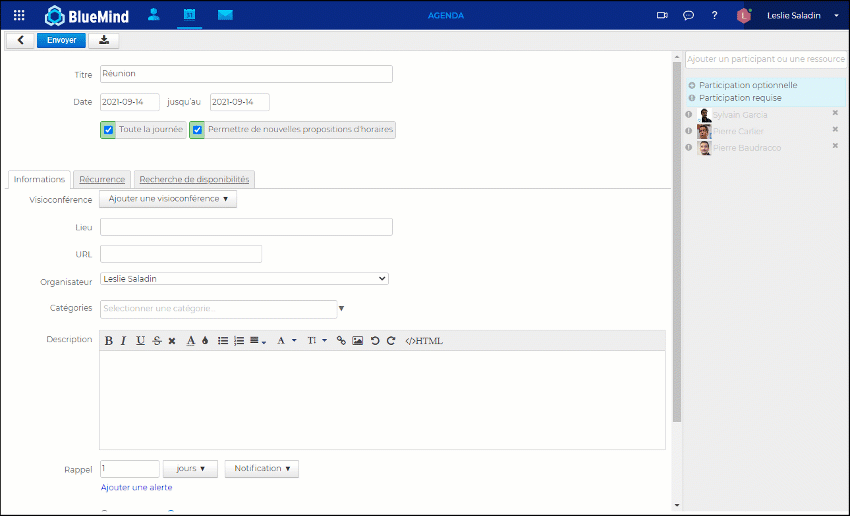 Add attachments
Do you want your participants to read documents to prepare for the meeting? Nothing could be easier. In the event details, you can attach one or several files from your desktop or your server if they are there already (if you've uploaded them earlier, through the linked attachments feature for instance).
Participants can then download the files either from their calendar or the invitation email.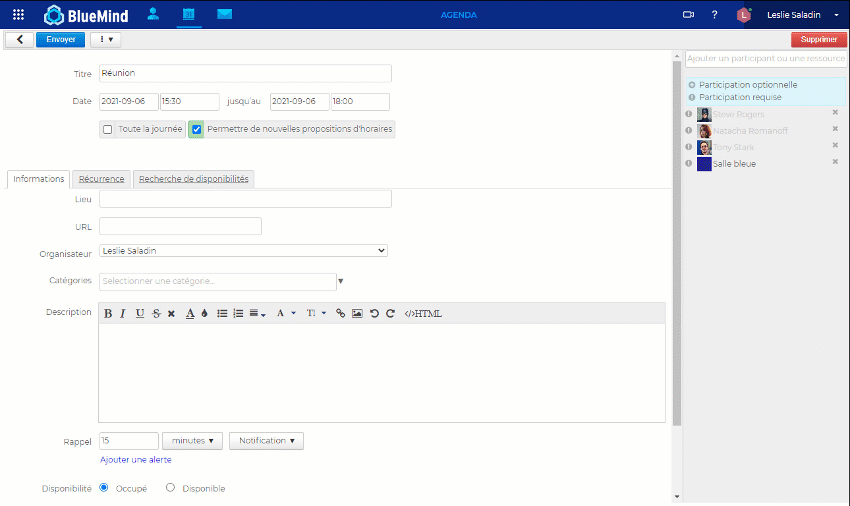 Propose a different time/date
You've done everything right – checked your team's calendar, booked an available room, added a videoconference link, found the perfect timeslot for everyone… But one of your invitees would like to move the meeting. We all know how having to reschedule a meeting involving many participants can be – it usually leads to an avalanche of messages. To avoid this, BlueMind has a simple yet effective feature: time counterproposal.
As an invitee, you will have received a typical invitation. In the event in your calendar, you will have the option to "propose a new time" rather than accept the invitation.
As an organiser, you will receive a new time proposal by email. You can accept or decline it. If you accept the change, the new time will be automatically updated for all participants.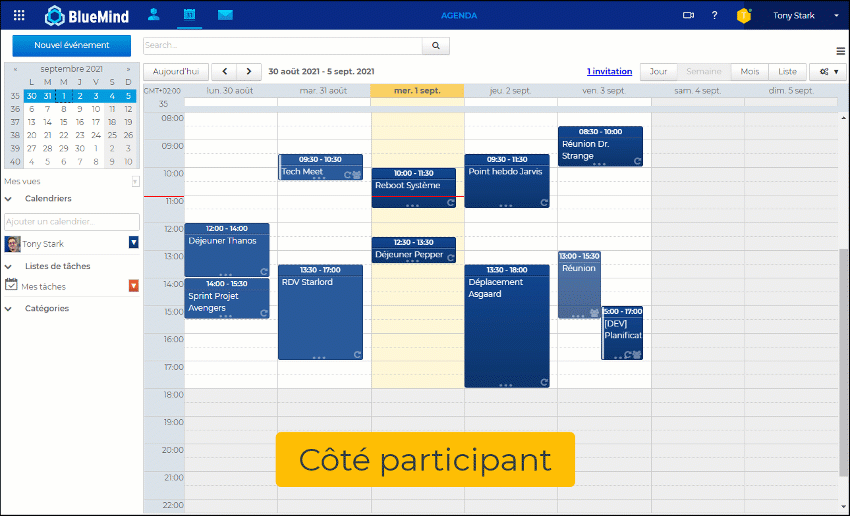 Track meeting changes
You have invited a dozen participants to your team meeting. The meeting has been modified several times to change the time, add participants or attachments.
To help keep track of these changes, and later clarify errors or misunderstandings, BlueMind gives you access to the meeting's change history. Go to the event details to find the dates, times and authors of all the changes made.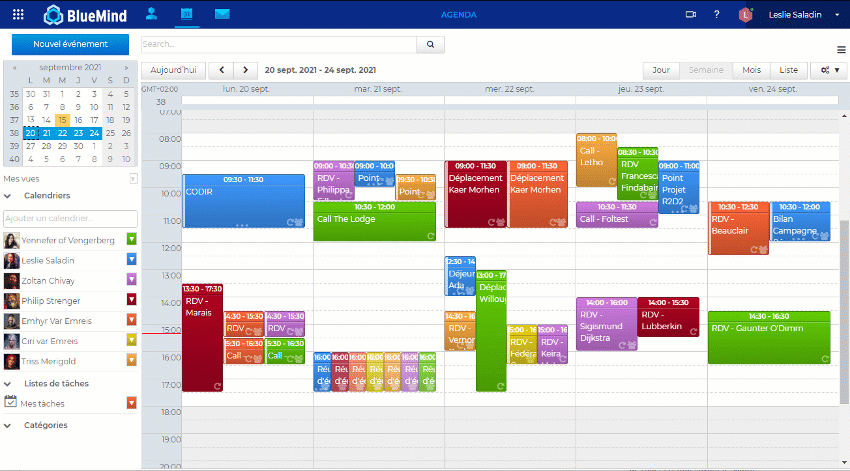 Duplicate an event
If you want to organise a new meeting with similar characteristics as an earlier one (team, board meeting, etc.), BlueMind lets you duplicate events, which saves you having to re-enter the participants and other meeting details.
This makes it easy to organise repeated events without them being systematically recurring.
And remember!
All these features are available no matter how you use BlueMind: Outlook, Thunderbird, MacOS, mobile, webmail, etc.