Things being as they are, a typical day's work probably involves more time in online meetings using a videoconferencing application than before the pandemic. This recent massive shift to remote work has compelled businesses to make a hurried and sometimes abrupt transition to this new way of working. Many have rushed into videoconferencing solutions driven by short-term convenience or lured by free offerings while ignoring overall integration with other tools, medium-term cost, dependency issues and, most of all, tech sovereignty.
BlueMind, whose mission is to reconcile user satisfaction and technological sovereignty, has picked up the gauntlet to bring the most user-friendly, best-integrated videoconferencing experience whatever application is used – whether it's BlueMind's, a partner's or any other offer on the market.
BlueMind.Video: videoconferencing built into the BlueMind collaborative email solution
BlueMind offers its own videoconferencing service, which is built into its collaborative email solution: BlueMind.Video.
It's easy to set up and doesn't require any additional installation or configuration. As soon as your video subscription is installed, you can start holding meetings right away and enjoy optimal integration with BlueMind Mail.
Users don't have to juggle between different apps or change anything to their habits. When they create an event in their calendar, all they need to do is click "Add a videoconference" and a unique link is automatically added to a virtual videoconference room to the meeting invitation.
Participants don't have to download or sign up to anything, the whole videoconference application is available from their internet browser.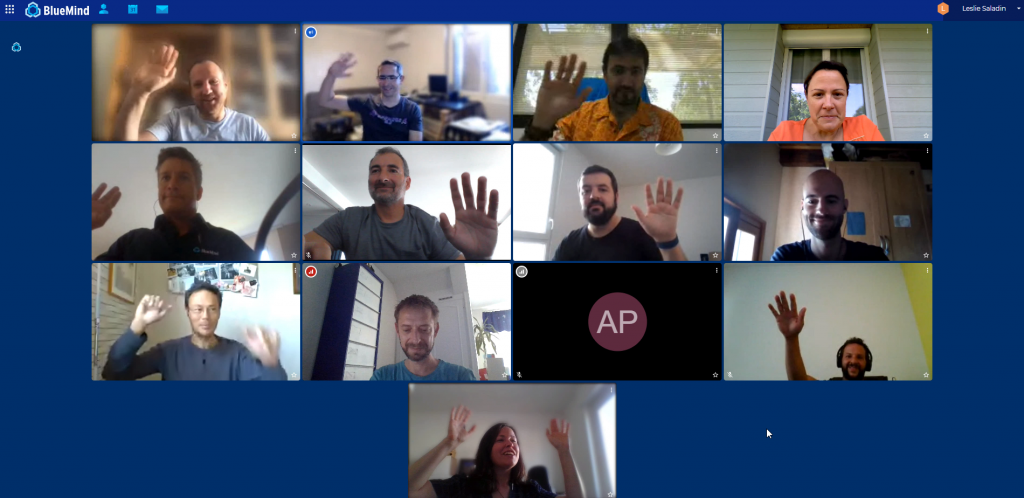 BlueMind.Video lets you share your whole screen or one application or internet browser tab only, and you can raise your hand to speak during a meeting. The meeting's moderator can manage the conversation and participants' microphones and cameras.
A third-party solution built into your BlueMind solution
You may already be using a videoconferencing solution you are happy with and you want to keep. At BlueMind, in our constant efforts to accommodate user habits, we've developed connectors to integrate your videoconferencing system smoothly into BlueMind mail. Whether you use BlueMind.Video's native tool or a built-in third-party solution, videoconferencing administration is easy — just like any other resource, videoconferences can be booked and their management delegated or automated.
Currently compatible systems are (mettre les logos et sous forme de tableau par ex):
Jitsi, a set of open-source projects that offer state-of-the-art, secure and user-friendly videoconferencing capabilities which can be self-hosted.
StarLeaf, a European videoconferencing and collaboration leader that provides enterprise messaging, meeting and voice solutions.
Lifesize, a US video meeting and contact centre provider that offers 4K videoconferencing hardware, conference room touch-screen smartphones and a cloud-based collaborative video platform.
Teams, Microsoft's videoconferencing, real-time collaboration, screen and document sharing application.
Rainbow, anAlcatel Lucent solution designed to meet collaboration, time management, security and confidentiality needs.
Other videoconferencing solutions will be added soon, and we'll be happy to hear from you if you have a project you'd like to share with us.
After this feature is installed in BlueMind, users can add videoconferencing to their events with a simple click.
BlueMind and co-existing videoconferencing systems
If you're already using a videoconferencing system that you'd like to complement with BlueMind.Video or any other system, that's possible too: BlueMind is capable of handling several videoconferencing systems at the same time!
When you add a videoconference to a meeting, you will be able to choose from either system.
In conclusion
According to the latest figures published by APEC, 83% of company executives would like to continue to work remotely after the health crisis. Video-based remote collaboration solutions are set to become a permanent fixture in organisations' everyday life.
BlueMind has developed its own videoconferencing solution which interfaces with third-party solutions so that it all fits smoothly into users' everyday needs.
To enjoy BlueMind.Video or for more details about integrating an existing system, please contact our team.