With its collaborative email solution, BlueMind's raison d'être is to bring businesses a true alternative to the all-powerful foreign tech giants while engaging users. Because it is the number one enterprise communications tool and it is used by everyone, the cornerstone of anything to do with email lies in user satisfaction! This is why, since BlueMind's very inception, we have been building our solution on email uses and functional requirements.
We are proud to unveil our new version 4.6, which marks a turning point in functional integration with two major new features: a new webmail, 100% UX-based and (native or integrated) videoconferencing. M365 is no longer the only option. Today more than ever, with BlueMind, The Choice Is Here.
New webmail
Being suited to all uses — in addition to being the only Outlook-compatible solution, jacking up Thunderbird's collaborative capabilities and being available on MacOS and mobile devices — means offering you a light application that can be accessed from any device while being just as user-friendly as a thick client.
Market changes, along with mobility and productivity needs which have boomed as a result of the health crisis, have steered us towards designing a tool that goes beyond the typical, simplistic (albeit often true) view of webmail as a back up to a thick client.
BlueMind's webmail aims to offer – today and in the future – a whole range of features and advantages: linked attachments, business signatures, easy folders, accessibility, integrated calendar views to manage email invitations, etc. as well as a "conversation mode" to facilitate inbox management.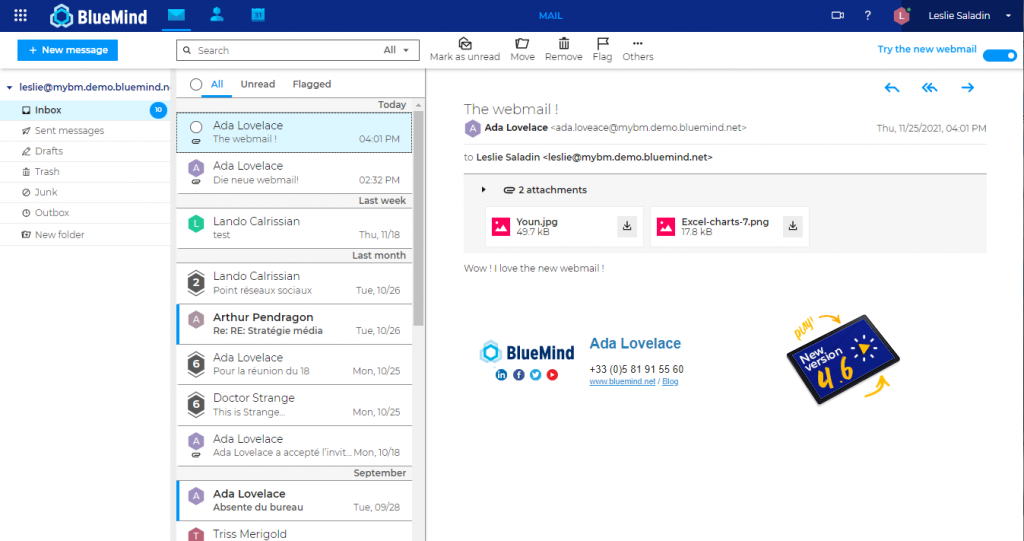 Our webmail has the look and feel and ergonomics of a thick client while doing away with its main drawbacks – client workstation roll out and lifecycle management. It aims to facilitate all uses: productivity, interfaces and direct links with collaborative tools. BlueMind is all about openness. Email being your main communication channel with the outside, our solution is designed to integrate fully within your Digital Workspace's functional and technological scope:
BlueMind's webmail thus becomes a bona fide core tool, providing an alternative to thick clients. To find out more about our new webmail, check out our full article or watch our webinar (french).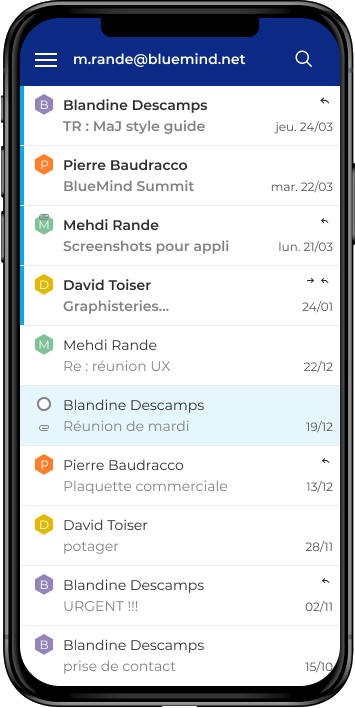 BlueMind.Video: native videoconferencing
Want to add a videoconferencing service to your BlueMind solution? It's just a click away!
BlueMind now offers its own hosted videoconferencing service which is built into into its collaborative email solution: BlueMind.Video.
As soon as your video subscription is installed, no additional configuration or installation is needed. You can start your meetings immediately and enjoy optimum integration with your BlueMind email.
When you create an event in the calendar, just click "Add a videoconference" to turn the meeting into a videoconference. All related information as well as a link for joining the videoconference are automatically added to the meeting invitation.
Users won't have to juggle between applications or change anything to their habits.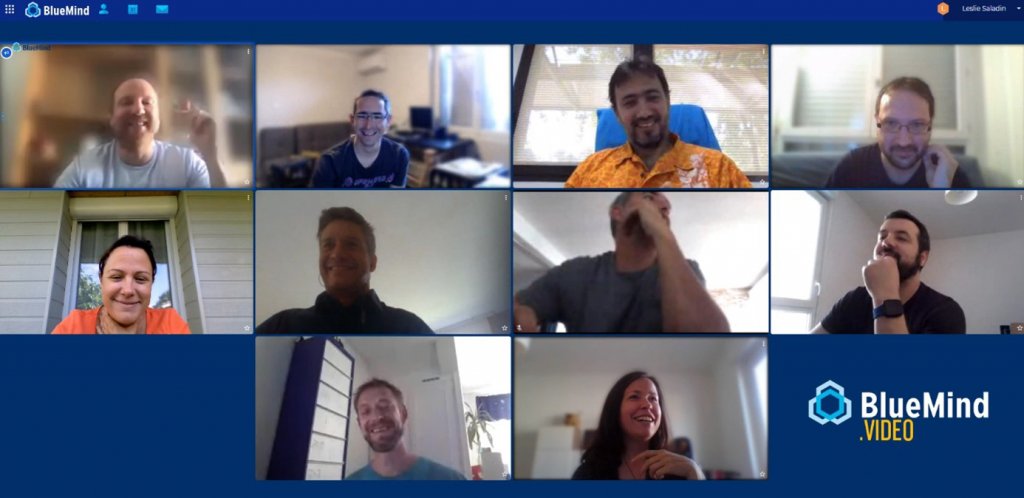 Integrating your existing videoconferencing system
You may already have a videoconferencing solution you are happy with and you want to keep. As always in an attempt to accommodate its users' habits, BlueMind has developed a series of connectors so that your videoconferencing system smoothly integrates into your BlueMind email solution.
BlueMind videoconferencing, whether through BlueMind.Video or an integrated third-party solution, is easy to manage – it can be automated and/or delegated to someone else – and it can be booked just like a resource.
To find out more about BlueMind's native or integrated videoconferencing solutions, check out this article.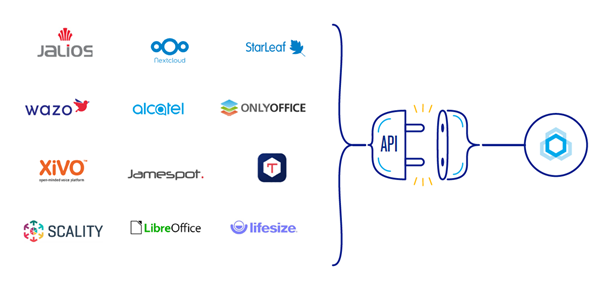 Technical consolidation
Being a software publisher also means enhancing and consolidating existing solutions. Object storage, API, MAPI (Outlook-native connectivity), components… discover the full range of BlueMind 4.6 technical improvements.
The Choice Is Here !
At BlueMind, we know that driving change is more about people than about technology. The transition towards a healthier use of digital technology will not be successful unless it is done with the support of those that use it. Change can only be envisaged with users, by putting their comfort (and often habits), at the centre of the game.
Functionally speaking, email is critical and meeting technical and load increase requirements is a given. But it's no longer enough.
At BlueMind, from our business model as software publishers to software production, all our efforts are focused on user experience.
This new version 4.6 takes us closer to what we had set out to do when we created BlueMind: to offer a sovereign, alternative email solution while securing user adoption. US tech giants are not the only option, they're just convenient. Some might even say they're the lazy option.
To enjoy BlueMind 4.6 now, contact us!