Email is the number one tool businesses rely on for day-to-day activities. Any service interruption will bring down a company's operations, with consequences as devastating as a power cut. Email migration is therefore an extremely sensitive operation… But fear not! If you've prepared it well, migrating to BlueMind will go without a hitch. In this article we focus on migrating from Microsoft Exchange to BlueMind and how to ensure a smooth and effective transition.
Any email migration requires sound methodology and detailed planning covering all aspects of the system (the solution, data, interfaces, routing and gateways, related tools, etc.). We don't address these in this article specifically, but some are discussed here. What we will look at is how to migrate from a Microsoft Exchange system to BlueMind.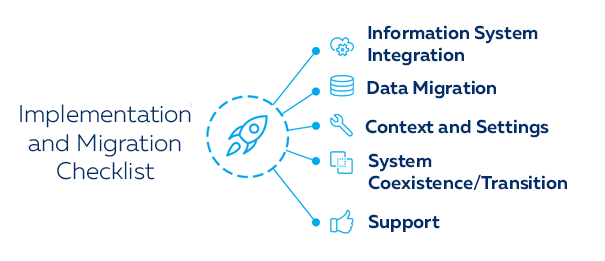 Information System Integration
ActiveDirectory and OpenLDAP
The first point of integration typically involves the enterprise directory which will be the source of email users. Exchange relies on and requires ActiveDirectory. BlueMind offers advanced ActiveDirectory connectivity which means that it can import and manage users and groups directly from an existing ActiveDirectory. You just need to check your configuration and your directory's contents so that the data required by BlueMind is shown properly.
Note that BlueMind also offers LDAP directory connectivity.
Single Sign-On Authentication (SSO)
With Single Sign-On (SSO) authentication, a user signing into one application is automatically signed into all applications. The Windows universe (Exchange, ActiveDirectory, etc.) uses the Kerberos protocol. BlueMind's support of this protocol enables it to incorporate Windows SSO. Users won't have to update IDs or passwords after the migration and, once they are logged into their Windows account, they don't have to re-enter their ID and password to log into their email account.
Help With Client Roll Out: Autodiscover
Autodiscover allows email clients to configure email accounts automatically when an email address is entered as it detects the user environments and information required for set up. For instance, when an email address is entered in Outlook for the first time, the email account's settings and data are retrieved automatically.
BlueMind offers Autodiscover, which is very useful when rolling out a solution onto workstations using a thick client (Outlook, Thunderbird) as this is an extremely time-consuming operation.
Integration into Existing Collaborative Environments
With its 100% API-based approach, BlueMind easily integrates into your existing collaborative environment.
This enables us to offer a comprehensive, integrated solution including documents, drive and knowledge management, telephony, videoconferencing, etc.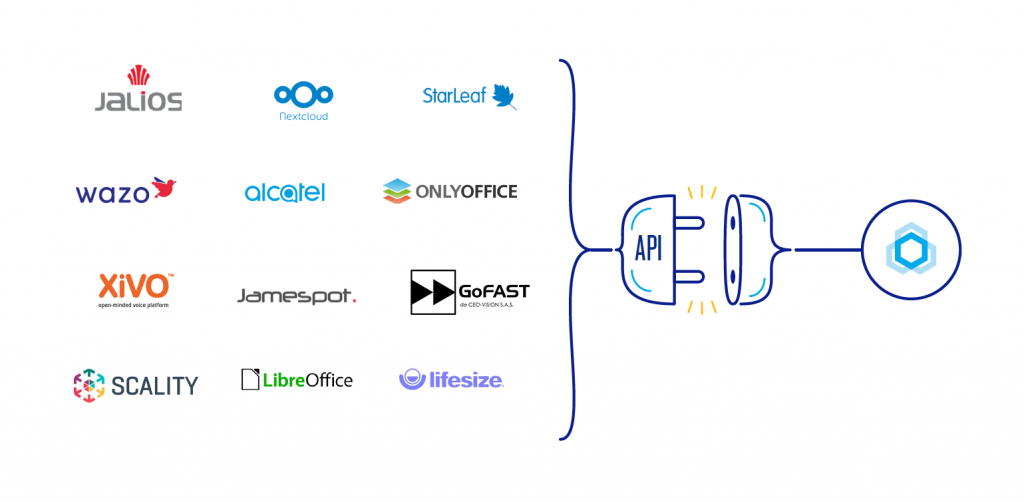 Data Migration
What to Migrate?
To prepare for migration, you must determine the volume, type and criteria for the data you want to migrate.
The data obviously includes email messages, calendars, contacts and tasks. But for users to be seamlessly reunited with their work environment in their new email solution, the migration may also include a lot of other data and user settings – distribution lists, shares and delegations, redirections, groups, folder organisation, privileges, identities, signatures… essentially anything that makes up their digital work environment.
The more comprehensive the migration scope, the fewer change of tool issues. Note that you can, particularly when you have a large number of users, proceed gradually by migrating one or several pilot populations first. For instance, you can migrate your project team, then your IT department, then other departments – we will address this later on.
Exchange Migration Tool
To ensure the successful migration of data from an Exchange server – which is a key stage – BlueMind has developed the Exchange Migration Tool. It is easy to install and roll out and comes with a full graphical interface, making data migration easy and automatic.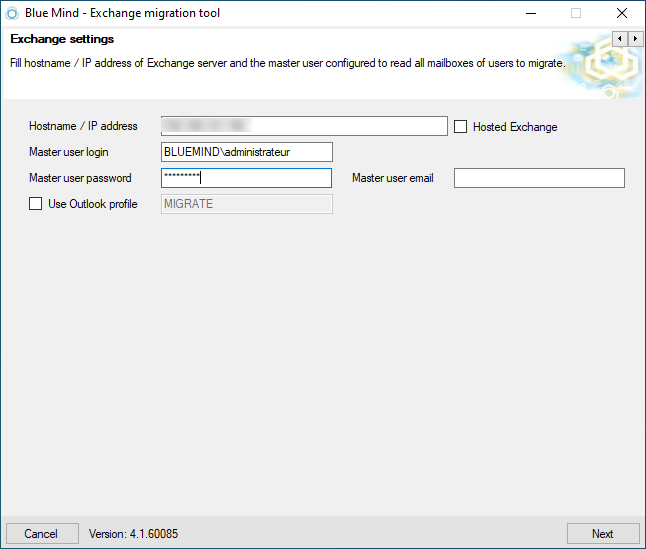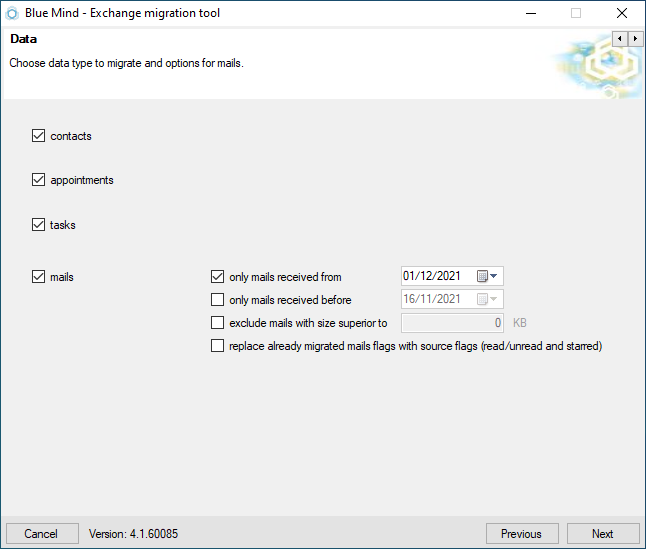 The Exchange Migration Tool lets you select the type of data you want to migrate (emails, calendars, address books). Before the migration is effective, you can launch a "Dry Run" (test run) which simulates the migration to anticipate possible errors and obtain complete logs which can be used to analyse the data that may be causing problems.
The volume of data being a frequent issue in email migration, the Exchange Migration Tool also lets you migrate data incrementally. The bulk of the data can be transferred, and when the time comes to go ahead with the actual migration, the Exchange Migration Tool will only have to retrieve the differential data – i.e. the new data since the previous transfer – thus reducing changeover time.
Migrating incrementally is a simple, fast and automatic way to test data imports. Many operations can be anticipated to ensure the success of the actual migration.
Client Workstation Data
Some users archive part of their email data in ".pst" files in their Outlook client, and this data isn't shown in the Exchange server. In some cases, users are forced to do this due to the lack of storage space on the Exchange server. Picking up this data – often managed by users themselves rather than the IT department – isn't always useful. You will therefore have to weigh how useful it is to the migration, bearing in mind that it is seldom helpful to keep old data in a brand new system and that a migration is a good time to tidy up!
The Exchange Migration Tool can integrate pst data the same way as server data. You can set up a directory where you can store all the pst data you want to retrieve. But do think about the volume and relevance of this data. You should weigh the pros and cons of migrating it ahead of the process.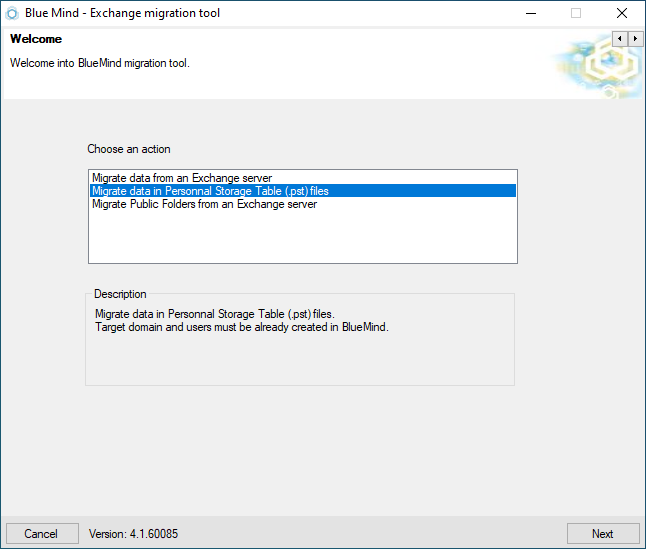 BlueMind-Exchange/O365 Coexistence
Email migration isn't a "big bang" style operation but a gradual process, which is why BlueMind allows for a transition phase where the two systems – old and new – coexist.
More often than not, particularly in large organisations with several thousands of users, some populations are migrated at different times, or not migrated at all. In that case, the different email solutions must coexist as smoothly as possible. BlueMind can accommodate this situation through its Autodiscover feature – which is capable of sending information requests to the right server – as well as a Split Domain configuration.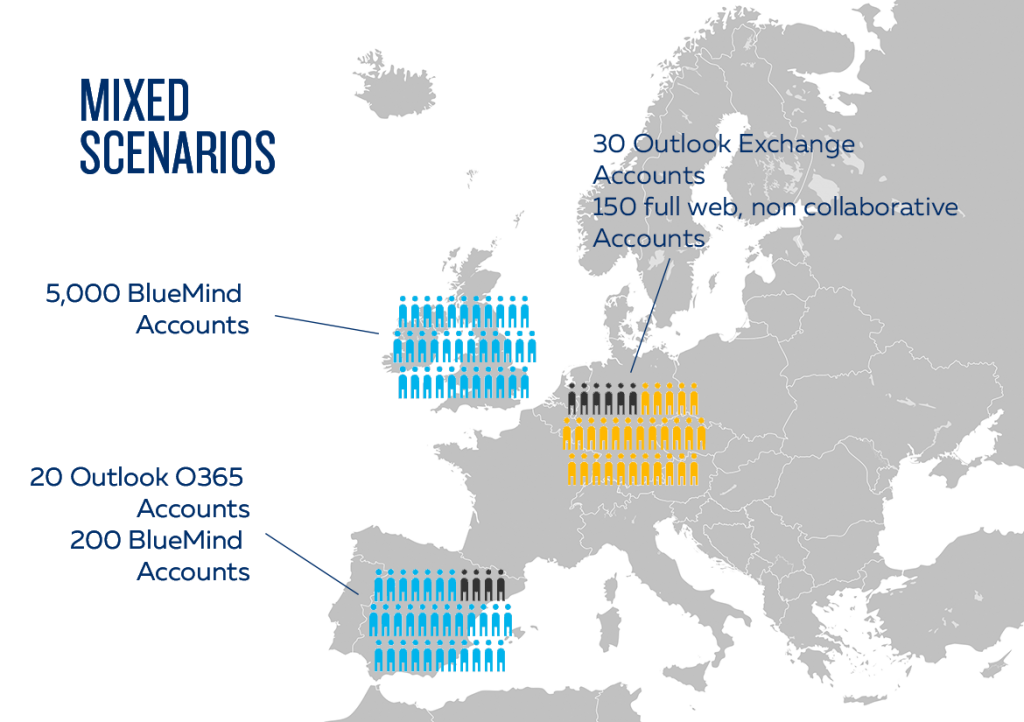 Split Domains
During the changeover phase and/or a coexistence phase, BlueMind can set up a Split Domain. This lets you distribute one domain's mailboxes between BlueMind and Exchange while having them operate as though they were within one single environment. You can migrate mailboxes in batches to facilitate management for administrators and make the transition transparent to users.
Our teams have extensive experience with this type of migration by population and system coexistence.
Do be cautious: split domain configurations require both email systems to be set up as split domains. Exchange and BlueMind both support it.
Change Support
Native Outlook
Now comes a crucial phase in any email migration: change support. Email being any organisation's most-used tool, with an average of 200 messages exchanged and 5-6 hours spent processing them each day (for executives), you can easily imagine why user satisfaction is at the core of any migration project's key concerns.
It is even more true when migrating from Exchange, as its native client (Outlook)rules unchallenged over user workstations all over the world. Outlook users are used to it and exceptionally adverse to changing to a different tool. In a nutshell:
Changing emails is ok.
Giving up Outlook is a definite no-no.
There are several ways Outlook can access an email service, but the only method whose results keeps users happy is when Outlook works the same way as with Exchange. This means implementing MAPI (Exchange format and protocol layer) on the server side so that Outlook communicates naturally and natively with the server without the need for extensions.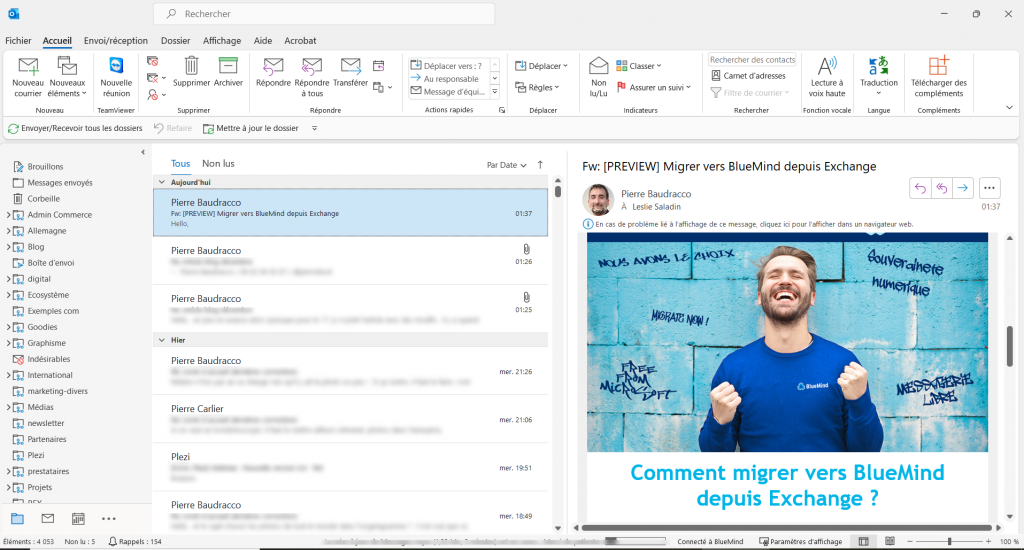 And only BlueMind, following extensive and exclusive work, has implemented this successfully and therefore offers native Outlook support! Typically, other software publishers provide a synchronisation plugin which unfortunately affects and spoils user experience considerably.
You can now leave the office on Friday evening with Outlook on Exchange and start your computer the following Monday with Outlook over BlueMind without telling the difference.
As far as your IT department is concerned, the migration will be smooth, your users will be happy and you will have taken a giant step towards digital sovereignty!
AllBlueMind
In addition to a rigorous methodology and a migration and change management plan, many tools and resources can be of great help to the success of a project.
BlueMind has gathered all these resources in once place in the AllBlueMind portal where you will find:
Our full, constantly updated user and administrator documentation,
All the tools you need to explore, participate, contribute to BlueMind: Forum, marketplace, bug tracker, etc.
A channel with videos and tutorials for you to find out all about BlueMind's the latest features.
#TheChoiceIsHere