"There was no alternative in Europe". Try using these magic words when you want to rationalise your choice of a foreign or a Big Tech supplier for your company's IT services.
Trust us, they work like a charm – no voodoo dance required: people will take your word for it. And no need to thank us for this tip, we're only sharing the good practices of some of France's key players: Health Data Hub, the Ministry of National Education, or Cedric O (Secretary of State for Digital Transformation) as he presented the country's national Cloud strategy.
Governments and major organisations advocate national sovereignty, however, they claim that, much to their dismay, there aren't any European solutions they can use to put this principle into practice. Really?
Let's take a closer look at the IT tool we use the most every day: email, and in particular the extensive R&D work that BlueMind – a French company – has undertaken to design an open-source solution adapted to the needs of large organisations, thereby offering an alternative to US tech giants.
An email solution for large organisations: technical aspects
Supplying email to large organisations requires many adjustments and entails overcoming a number of technical and functional hurdles that go beyond the mere resizing of standard components. Here are a few of the issues that BlueMind has successfully resolved to meet these challenges:
Object storage (handling large amounts of data): email messages are increasingly large and storage needs are growing continuously. The messages stored on a BlueMind platform can require dozens (or more) terabytes of space. Handling such volumes of data is an extraordinary challenge for system infrastructures, not to mention related maintenance, backup and management issues… BlueMind's object storage is specifically designed with volume and resilience in mind. We've adapted our solution and developed our own connector which specifically interfaces with several object storage solutions, such as our partner's, Scality – a French supplier. BlueMind's object storage fully fulfils your email performance, scalability and resilience requirements.
Federation (user volume management): in this instance, this means managing a federation of BlueMind platforms which is designed to respond to horizontal scalability and elasticity demands. This enables smart geographical implementation – i.e. each platform can be expanded or shrunk depending on your needs – and helps address possible network, growth or population reorganisation constraints.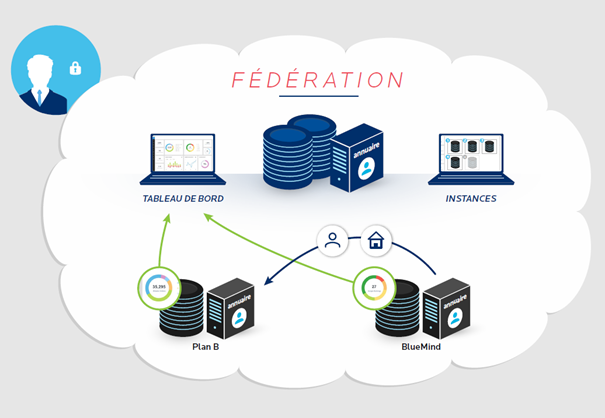 Resilience: this is about improving resistance to breakdowns and eliminating or reducing the impact of incidents and operations on end-users – e.g. by ensuring the redundancy of collaborative and application data. BlueMind is based on technologies that ensure real-time dataflow backups. Specifically, this enables you to replay some or all email interactions at any time and therefore implement BCDR scenarios. This also lets you transform data to adapt it to new versions and perform hot updates, with your users barely noticing.
Successful migration: migrating an email system with several thousand users is a major endeavour involving technical, functional and organisational issues. As a software publisher, we provide advanced tools that help make this changeover as smooth as possible through the "BM Migrator". You can recover data but also user context depending on the migration scenario you have chosen, transparently and with minimal service disruption. Do have a look (again?) at our webinar on migrating emails from Zimbra or from Exchange.
BlueMind has developed a software infrastructure and tools that let you manage tens of thousands of email users smoothly and reliably. Yet technical challenges are all but the tip of the iceberg. BlueMind has also gained solid experience in the business and storage issues large organisations face and incorporated it into its solution.
Large organisations' business and usage issues
Adapting an email system to a large organisation isn't just about upgrading technical capabilities. In fact, the hidden part of the iceberg involves implementing the solution in your particular business context and adapting to your specific usage needs. BlueMind's extensive expertise as a software publisher has gone into a solution that adapts to different business contexts. How?
By handling heterogeneous end-user populations with different habits: BlueMind is compatible with all email uses – mobile devices, webmail (with full UX design), Thunderbird, macOS… It's also, and most significantly, the only European solution that's natively compatible with Outlook, end-users' favourite client.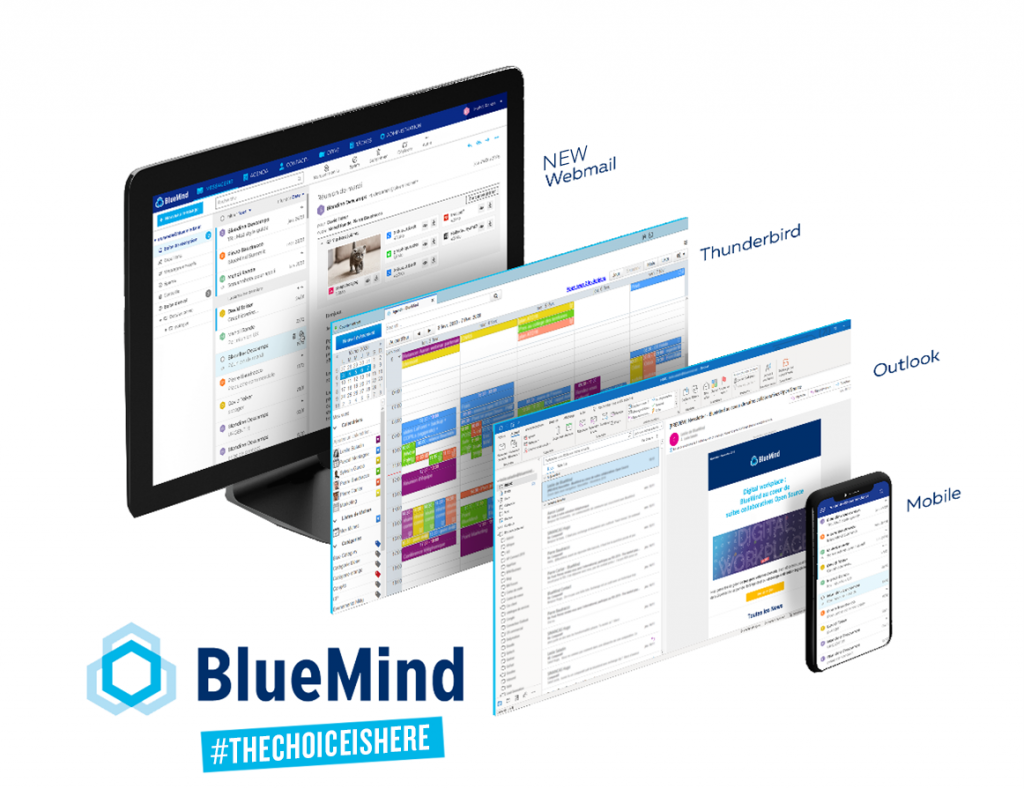 By handling evolving scenarios: withBlueMind you can be confident that you are making the right choice. The client or type of access you choose depending on your end-user population can evolve over time without your collaborative perimeter deteriorating. You can decide to have several email clients coexist within the same end-user population and change it in your own time.
By handling mixed scenarios: BlueMind doesn't force you to migrate your entire population. BlueMind users can coexist with others on Exchange, M365 or any other solution.
By ensuring accessibility: French public administrations and private companies with a turnover in excess of 250 million euros in the last three financial years are subject to legal digital accessibility constraints. BlueMind has integrated these constraints into the development of its solution to design a legally compliant webmail application.
By providing a complete collaborative perimeter: needless to say, to provide a collaborative email solution that offers an alternative to US giants, you have to cover – right now or in time – similar features and scope. BlueMind does just that – natively or through integration –, with a complete package of collaborative features (email, calendar, tasks, chat, videoconference, documents, etc.). BlueMind is also designed to integrate into your collaborative perimeter through its API core (your business applications, your digital workplace, etc.).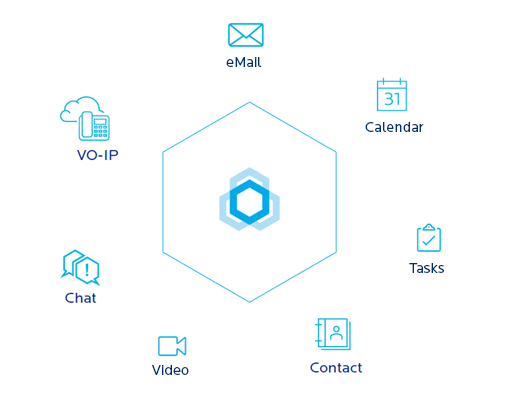 By managing delegations and roles: large organisations often have several IT teams that manage several user populations – with a geographical or organisational scope. BlueMind lets you create roles and delegate specific permissions so that you can allocate administration responsibilities according to your company's hierarchy and organisational structure.
By offering change management tools and support: BlueMind's mantra is to reconcile digital sovereignty with user satisfaction. This is what our client portal – AllBlueMind – is for. It contains all useful BlueMind ressources and materials such as our documentation (user and technical) which is continuously updated. We also have a youtube video channel where you can find many tutorials. Finally, we rely on our extensive ecosystem of partners – technical partners and integrators – who will know how to help you bring your projects to fruition.
Try a little harder!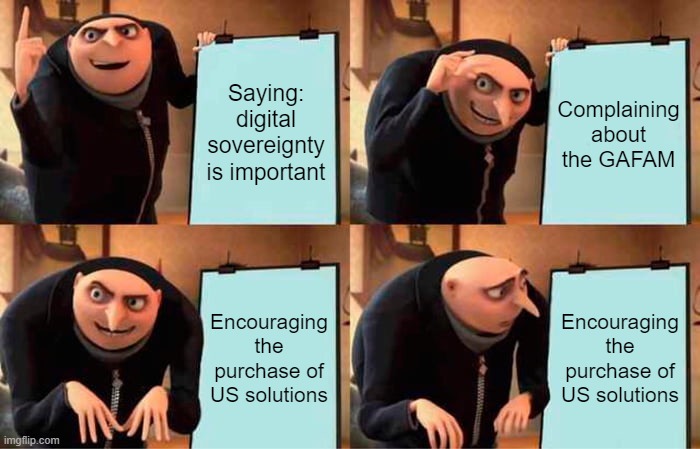 It is simply not true that there are no sovereign alternatives. As far as email is concerned, BlueMind is proof that "the choice is here". Our governments, by consistently demeaning European technologies to justify their short-term choices, are causing devastating damage to our entire industry's ecosystem.
They must stop talking the talk of the strategic importance of sovereignty while walking the opposite walk:
France's "cloud de confiance" ("trusted cloud") certification actually encourages organisations to choose US solutions! The French State seems to forget that a key aspect of sovereignty is technological independence! What will become of our sovereignty when everyone is equipped with US licenses, thereby sealing the fate of European solutions? What negotiation power will we have when we no longer have alternatives? What will our "plan B" or way out be when the power struggle is all about prices or, worse yet, about limitations or bans as a result of geopolitical unrest?
Some government administrations cobble together amateurish IT solutions – software publishing isn't something you improvise and requires long-term commitment – to address non-core competencies to the detriment of competent local publishers.
This lack of long-term vision – which, at the time would not have led to the creation of France's TGV (High speed trains network), Airbus or Ariane, cyber-defence facilities or other major successes built on long-term government will and strategy – has to be corrected without delay, but all hope isn't lost yet:
There are signs of such will in Europe
There are valid French solutions doing all the groundwork necessary to deliver credible, valid alternatives.
Software publishers are here. Solutions – including open-source ones – are available, as the latest French National Free Software Council study shows. All that remains to be done is to put actions before words and capitalise on these solutions.