On 29th September, BlueMind held its 2022 Summit: the biggest open-source email event in France. This article looks back on BlueMind's key announcements at this year's Summit.
The BlueMind Summit is the biggest event for open-source email in France. Bringing together clients, prospects and partners, the Summit is designed to present BlueMind mail's latest technological and strategic developments through a series of conferences by our experts and partners.
After a two-year hiatus due to the pandemic, the second edition of the BlueMind Summit was held on 29th September 2022 in Paris. The national strike called that day wasn't enough to deter about a hundred participants from attending this gathering where expertise and business connections met good atmosphere and socialising.
Here is a roundup of the BlueMind 2022 Summit's key announcements:
BlueMind: a software publisher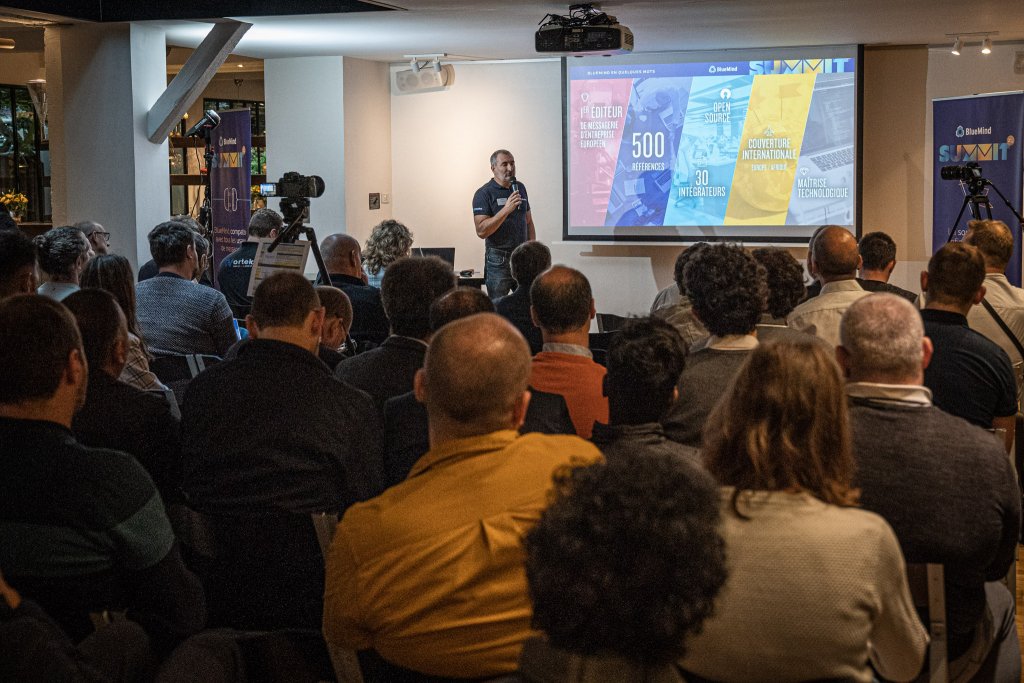 The business email market continues to be in the hands of American big tech companies at the expense of our digital sovereignty. What can we do to fight this hegemony?
For BlueMind, the path is clear: to be a valid sovereign alternative, you need, first and foremost, a good product. And being a good product, when it comes to email, means providing a well-grounded answer to four key market requirements:
Features:

Offering advanced mail features. This isn't just about checking boxes and providing mail, calendar and contact applications, but about offering advanced use scenarios, for example on the calendar: delegating and sharing privileges, recurring events, exceptions, meeting time counterproposal, resources and booking strategies on all channels (Outlook, web, mobile, Thunderbird, etc.)
Offering a large functional scope that smoothly integrate other collaboration components (videoconferencing, documents, live communications, Knowledge base, etc.)

Habits: email is the number one enterprise tool. More than any other tool, when it comes to email, users are the ones who drive companies' choices – and this choice tends to be Outlook. BlueMind has been tackling this issue by putting users at the heart of every development step to become the only email that is "compatible with all uses" – which may be Outlook but also any other means of access.
Resilience: email not only has to work but it also must never stop working!
Scalability: to respond to all issues, evolutions, population growth and collaborative uses.
BlueMind's open-source business model is what enables it to meet to all 4 requirements! Developing high-quality, lasting, user-centred software is what a software publisher does. And this cannot be achieved through a service-based model, including an open-source one.
Being a software publisher means that we are 100% focused on building our solution: the product and all the tools and resources around it, e.g. migration tools, documentation (technical, functional and commercial), as well as our ecosystem (integrators and technological partners, among others). We bring a global, long-term vision and governance which ensures our solution's well-roundedness.
In one word: BlueMind's ethos is having the right product that meets market and users' actual expectations and the right ecosystem to deliver and implement a series of offerings, ultimately providing a truly lasting, sovereign choice that lives up to our motto: "sovereignty and user habits finally reconcile: #thechoiceishere".
Features: what's new in BlueMind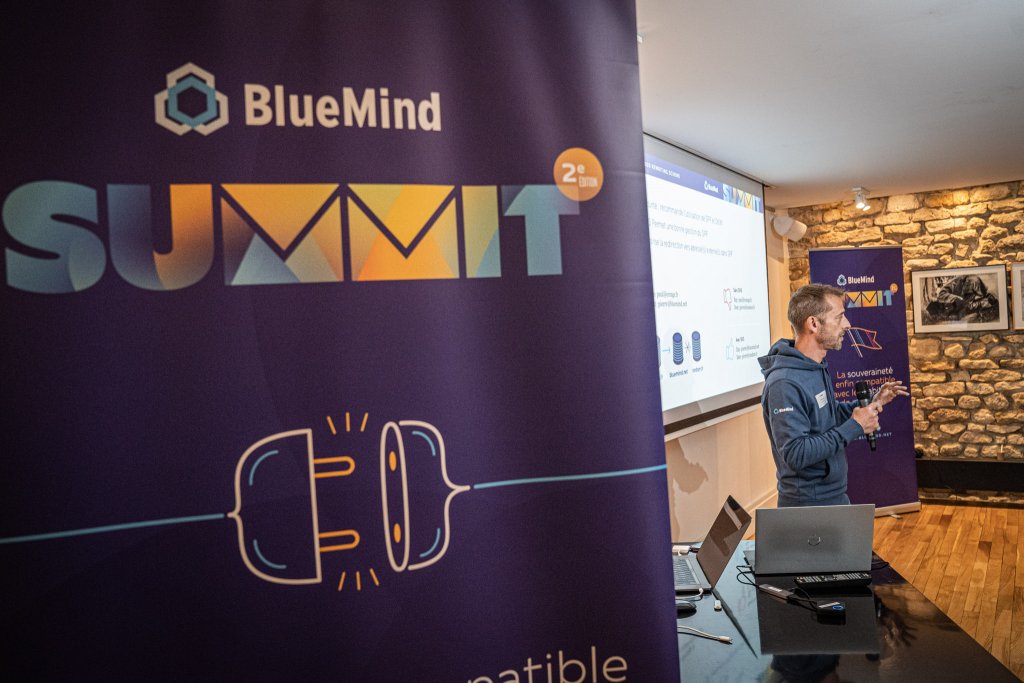 New user-side features
New webmail and native videoconferencing or third-party videoconferencing (find out more here).
Time counterproposal: Instead of just accepting or declining a meeting invitation, you can "propose a new time", depending on others' availability. The organiser can decline or accept the proposal, in which case other invitees will automatically receive an update.
New documentation: A new system, new tools (Docusaurus, markdown)… BlueMind has completely overhauled its documentation. It has been streamlined and designed to facilitate a more proactive approach: https://doc.bluemind.net/release/4.8/
New admin-side features
UX strategy at the service of our new webmail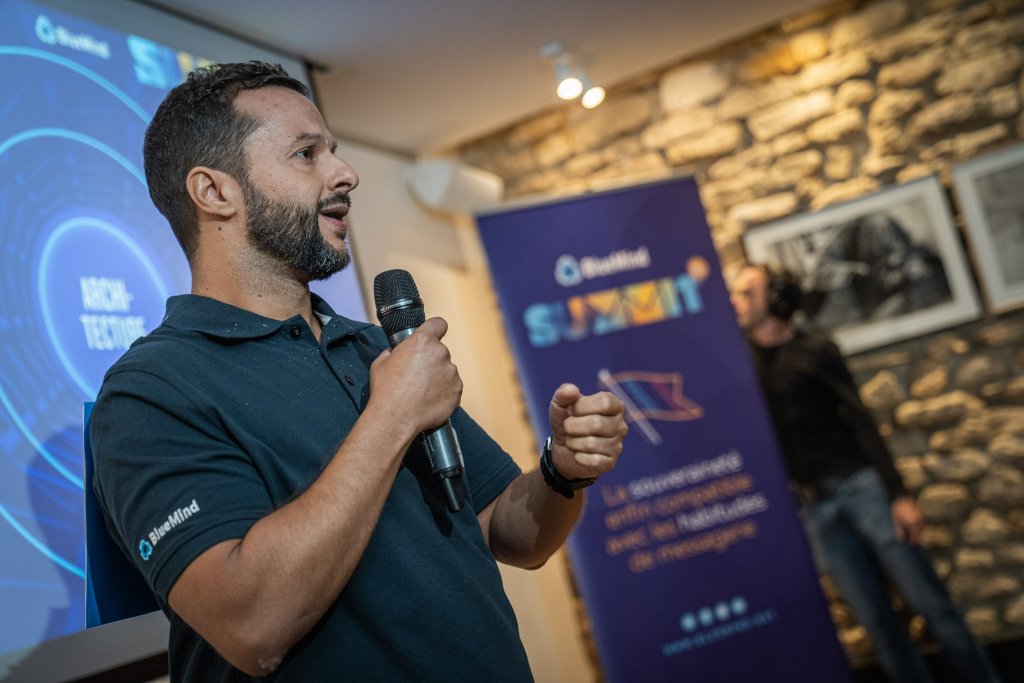 One of BlueMind's key concerns is to offer users solutions they want to use on a daily basis. Usability and user adoption are what drive our developments, and we are tirelessly in search of ways to improve email — the number one enterprise tool.
To find out more about BlueMind's UX strategy and see how it is put into practice in our new webmail, check out this blog article.
The "Outlook" revolution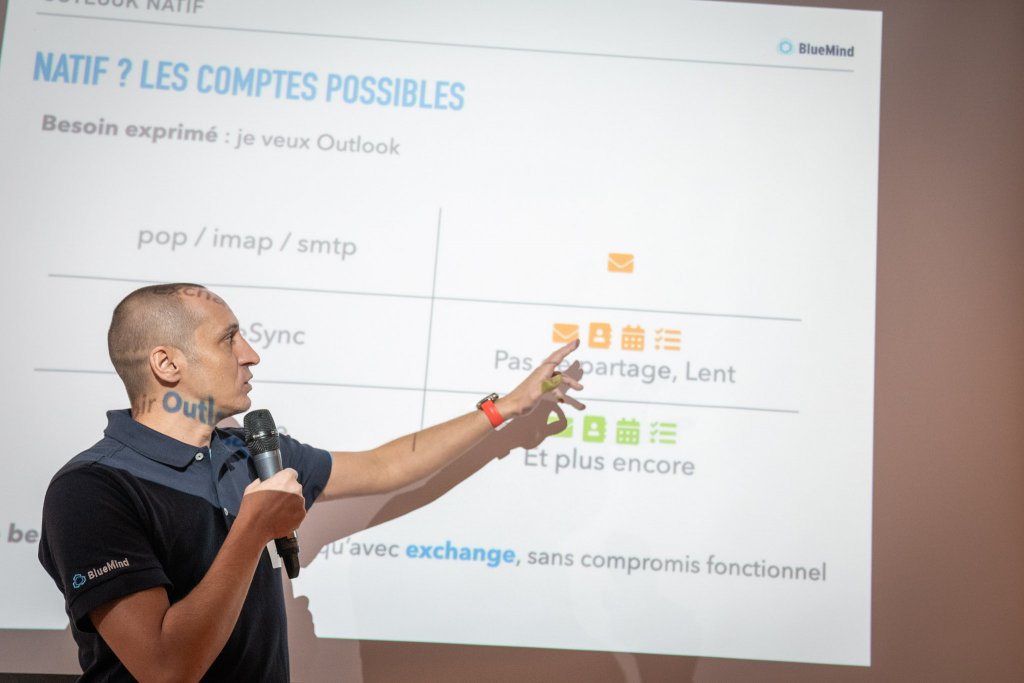 BlueMind's approach to setting email free from the clutches of Microsoft is rooted in user requirements. Some users want Outlook, and it is non-negotiable. This means Outlook the way they are used to it – i.e. the way it works natively with Exchange – not a substandard version of it.
Outlook communicates with Exchange servers through a set of protocols named MAPI –nothing to do with standard protocols (POP and IMAP which are much less powerful and only handle the email side of things). MAPI is capable of synchronising all Outlook data (calendars, contacts, tasks, notes and other free/busy planning information, etc.). Replacing Exchange in a way that is completely transparent for users therefore requires us to implement the MAPI stack on the server side to communicate exactly the way Outlook does with the Microsoft server.
Implementing all MAPI layers on the server side has taken dozens of R&D man-years. BlueMind is the only connector-free, natively Outlook compatible solution in the world – barring Microsoft. This is a true technological feat and a unique opportunity for businesses to finally reconcile user satisfaction with sovereignty.
The holy grail of resilience: DRP & BCP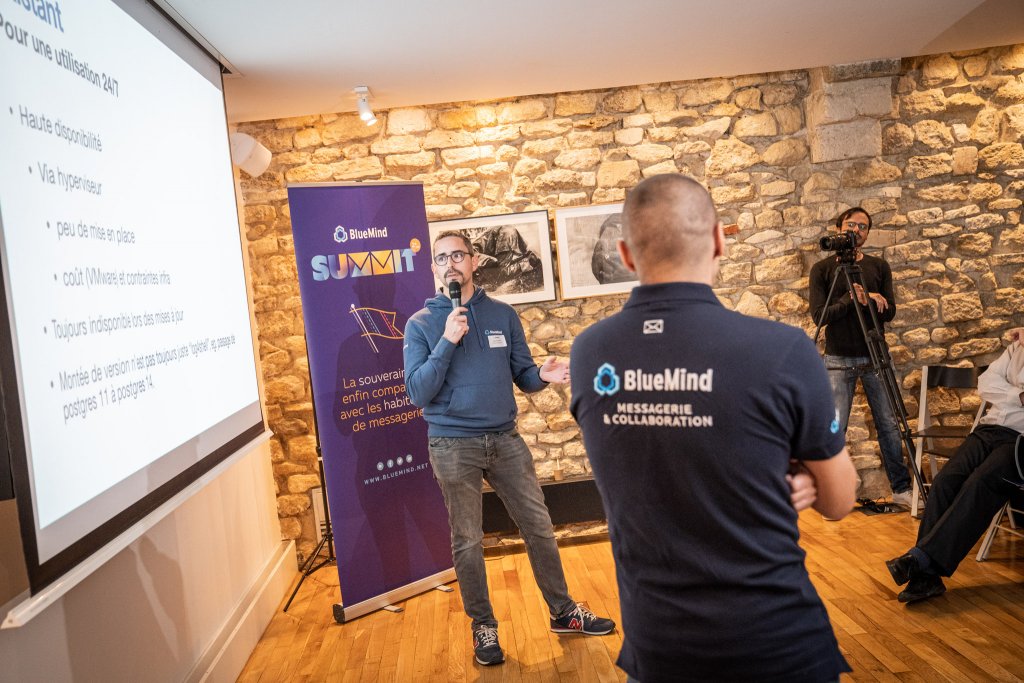 In an ideal world, email must never stop, including during updates you would want to be entirely invisible for users, regardless of the changes that need to be made.
BlueMind presented its work and its solution to achieve zero scheduled service interruptions.
How did we do that? By adding a new update system, which completes the current one.
This system's duplicated infrastructure requirements are minimal, but it also enables:
Realtime backup
Zero–service-interruption DRP & BCP
Zero-service-interruption updates
What it relies on:
Object Storage for non-editable data (email and documents). This storage is shared among instances.
For other data (calendars, contacts, directories, read/unread, etc.) we "capture changes" (via Kafka) so that we can replay them on an identical version to respond to incidents or on an above version to prepare for updates.
A proxy to facilitate transparent changeovers.
With a Kafka infrastructure and object storage, BlueMind's constant backups enables us to put an end to scheduled interruptions. Updates, DRP and BCP are now seamless and you can clone your production (e.g. for an OS change or preproduction installation).
So long, Cyrus IMAP!
Cyrus IMAP is an IMAP & POP3 (standard email access protocols) server and email storage server.
Outdated technical architecture (one connection per process),
Non-cloud architecture: reference data is stored locally (cyrus.index, cyrus.header, mailbox_NN.conversations, annotations.db, mailboxes.db)
"Primitive" integration with object storage (additional processing)
Fixed email storage format, which cannot be changed to incorporate new information
Sharing is extremely constrained
Suboptimal storage usage
BlueMind v5 breaks away from Cyrus to improve performance, save storage space, enableglobal sharing with no backend limitations and enrich its email application. The BlueMind v5 architecture is made for object storage (but also works on a standard file system) and designed to enable hot updates (DRP and BCP).
BlueMind Summit 2022: Thank you all!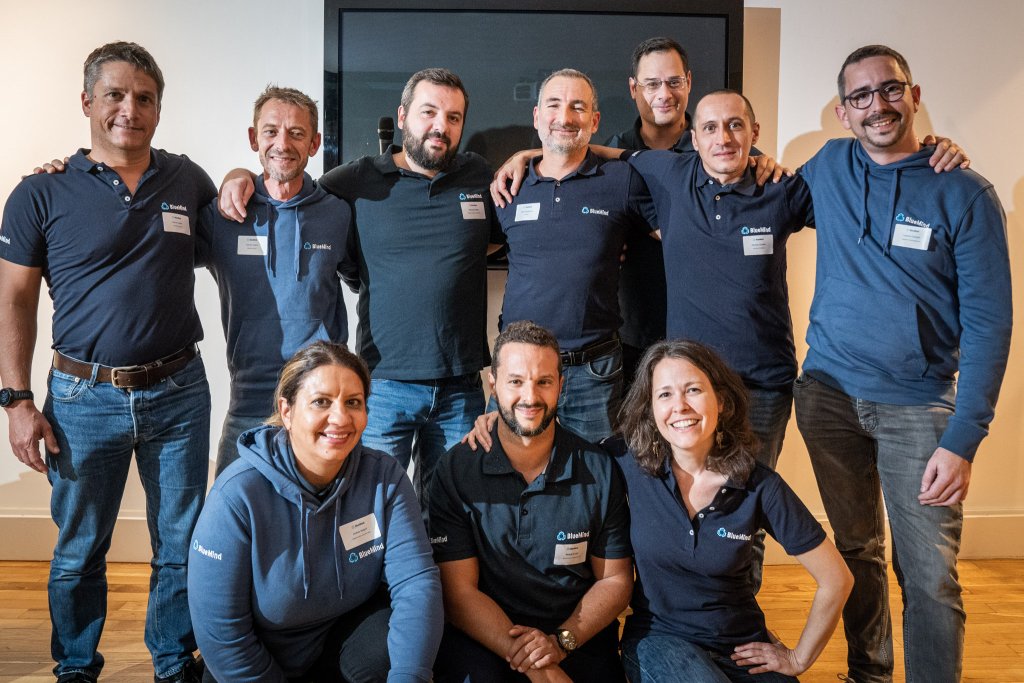 BlueMind Summit 2022 brought a wealth of announcements, meetings and discussions. Our conferences will be available online very soon. Please have a look at all the links featured in this article, they will give you a better idea of BlueMind's actions and positioning. We would like to thank our partners Worteks and FactorFX as well as CEO Vision, Interstis, Scality and Wazo who have undeniably helped make this day a success.
We have many more things to tell you about… our job as a software publisher never stops! Remember to subscribe to our social media pages and our newsletter so that you don't miss our future communications.