Email is the number one tool people use at work every day, that's a fact. How about you? How do you use it? Are you a fan of webmail or an unconditional user of a thick client (Outlook, Thunderbird and the like)?
Our experience as an email software publisher has helped us build solid knowledge of the needs and expectations of users in the professional sphere. As a result, we would like to go over the main advantages of webmail and thick clients based on our clients' feedback, and what either solution can bring to your organisation.
Now, what if, on top of having the best BlueMind support as well as being able to access and use email any way you like, we told you that you can have the best of both worlds: all webmail and thick client benefits rolled into one solution, and an open-source one at that? We'll tell you how at the end of this article!
Webmail: the challenger adapted to current uses
The points highlighted below are the result of talks with our clients and partners, and BlueMind's years-long experience offering a solution that is "compatible with all uses".
Reduced installation cost
Webmail is an application that lets users access email via a web browser on any computer or device that is connected to the internet or an internal mail server. The first advantage versus a thick client is obvious: it doesn't require installation on user workstations. Organisation-wide deployment of an application on all user workstations requires having skilled IT staff on site and is highly time-consuming, which has considerable financial implications. With webmail, on the other hand, all you need is to make sure that all your workstations have a sufficiently recent web browser installed.
Centralised management and configuration
Webmail lets you manage all email settings centrally: storage capacity, usage quotas, linked attachments, corporate email signatures, etc.
Support is facilitated as you can easily replicate user settings. This advantage is all the more significant for organisations with several sites or remote workers.
With webmail, all your emails are saved on the server, which means they will always be available if your computer breaks down (sent messages, drafts, other folders, etc.).
Webmail updates usually go together with mail server updates and are carried out on the server side. It doesn't require deployment on workstations and is automatically available for all users.
Webmail lets users access their email accounts from any computer. Webmail users don't need to own a computer – they can access their email on a company computer, a personal computer, a smartphone, a tablet, any cybercafe, etc.
The thick client: the reassuring, comprehensive leader
Usually, an active network connection is needed to access mailboxes, receive new messages and reply to them. However, thick clients such as Outlook or Thunderbird allow you to work while offline and access most mail features: navigate the inbox and other folders, open unread emails, the calendar, contacts, prepare messages that will be sent then you go online, etc.
Better management of multiple accounts
If you have several mailboxes on different domains or servers, and you want to manage and access them from a single client, then a thick client is the solution you need. Webmail accounts are associated to a mail server that manages the email address hosted on that server. Although some servers allow you collect third-party messages, they don't enable you to manage several accounts separately and all third-party mailbox emails are put together into the same mailbox.
Thick clients reduce the risk of phishing – where a mimic of your homepage or web interface tricks you into changing your password, for example. In addition, your messages are stored locally on your machine, thereby partly protecting you from cyberattacks or server downtime (however you are depending on your computer working properly) to read your emails.
Faster and less RAM-hungry
Desktop mail clients are typically faster than webmail applications which run on a web browser. They can store and manage data locally on the file system and only send the minimal data necessary to perform mail processing tasks.
Folder management, drag-and-drop, filters, navigation and keyboard shortcuts are typically more user-friendly with desktop mail clients than with webmail services, as they make use of all the functional design and components of your operating system and its environment. In addition, most of them give you access to app stores which can be used to enrich your client with a wide range of add-ons and plugins to customise how they look and work and get you organised better.
[GOOD TO KNOW] Our thick client recommendation: Thunderbird!
Thunderbird is a multi-platform open-source mail client that is easy to configure and customise. It's a great client for email, but a poor client when it comes to collaborative features… BlueMind offers complete mail management through Thunderbird by fixing this key weakness: BlueMind integrates its calendar, shared contacts and all sharing features into Thunderbird, thereby making it a collaborative email champion.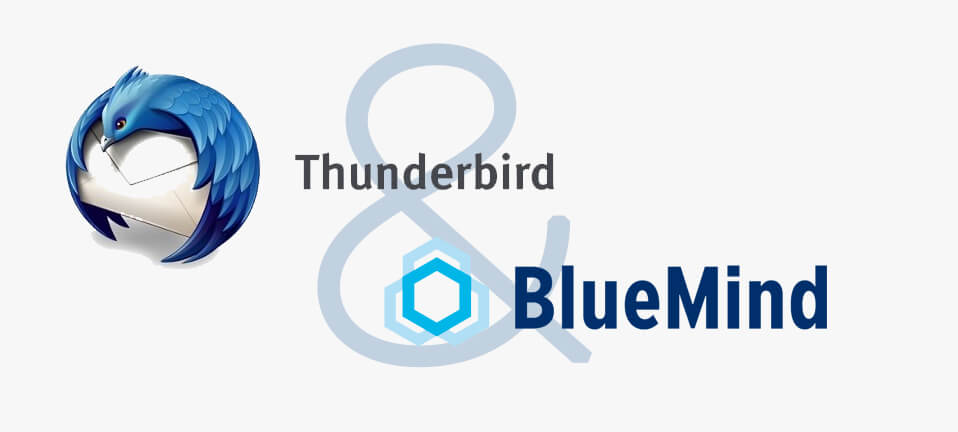 The best of both worlds with BlueMind: a webmail service designed like a thick client
Being compatible with ALL uses – in addition to being the only Outlook-compatible solution, boosting Thunderbird's collaborative capabilities and being available on Mac OS and mobile phones – means offering a light tool that can be accessed from any device. Beyond the typical benefits of a browser-based service described above, BlueMind's webmail goes further and aims to provide the same ease of use as a thick client.
How?
Comfort and user-friendliness
BlueMind's webmail has been redesigned from scratch by our UX team to offer you the best user experience possible, as well as conversation mode to streamline your email exchanges in your inbox.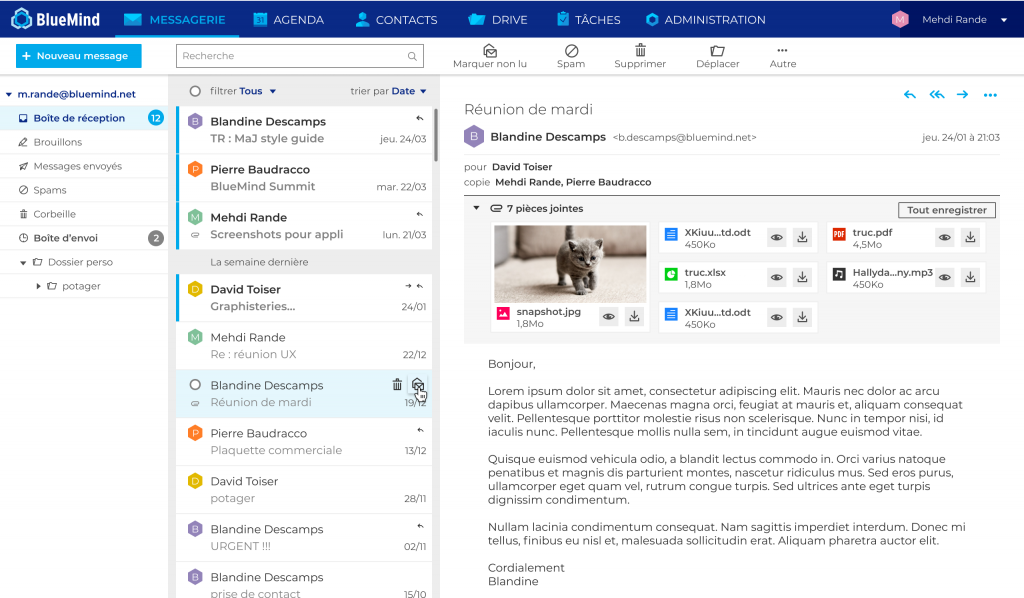 Offline mode – which was already available for the calendar and contacts applications – is now available for email. You're on a flight and you have two hours to kill or on a train with a sketchy 4G connection… It's the perfect time for you to prepare an upcoming meeting! But to do that you need to have access to all previous email exchanges on that subject, and be able to write a draft, without an internet connection or a thick client. This is where BlueMind's new webmail comes in with its global web architecture.
To manage offline mode, the new webmail works by synchronising data on different levels, implements the concept of Service Worker and uses IndexedDB, to enable offline data handling while ensuring consistency once back online.
Interactions between applications
By multiplying interactions between BlueMind applications (mail, calendar, contacts, etc.) – e.g. calendar event management or contact cards integrated into the mail application – user experience becomes seamless. This has been made possible thanks to the standards set by the BlueMind API REST and its accessibility from any application.
Starting with a blank slate for our new webmail has enabled us to focus our technological efforts on performance which is guaranteed to produce a positive user experience.
The BlueMind webmail offers a smoother experience, reduces loading times by loading essential items only and banishes empty areas. This implies for developers to change the way they think. "Loading everything" no longer means "displaying everything" but loading visible data only, loading different areas in parallel and replacing not-loaded areas by visual placeholders.
Server push enables the server to send information to the client as soon as it is available, without waiting for a refresh i.e. a polling request by the browser. This avoids unnecessary requests and only transfers relevant information.
Meanwhile, optimistic rendering, which consists in not waiting for server confirmation to update the interface, improves smoothness and user experience. What this means is that the interface is updated on the premise that the operation is successful without waiting for the "actual" result of the operation.
The result: smooth, fast webmail on par with thick clients!
Easy folders: The new webmail lets you easily create, edit or delete mail folders on the fly so you can reorganise them quickly. You can create new folders as you move messages, without going through another interface.
Large attachments: to help you send large documents (that you wouldn't normally be able to send by email) without upsetting your habits, the new webmail incorporates an automatic "send attachments as links" feature. Depending on file size and settings, attachments can be transferred to a web drive and replaced by a link in your email message without you having perform any specific operation. This helps take load off mail servers and data transfers by storing documents on the BlueMind Filehosting service or another application that uses the API REST interface such as the Nextcloud, Jalios, Interstis, Talkspirit or GoFast drives.
Centralised corporate signature management: Email signatures are a powerful marketing tool but they can turn into a real headache for companies as they are often the responsibility of end users. With BlueMind's centralised tool, you can coordinate and standardise an email signature for all your employees depending on your company news or recipients to communicate a stronger corporate image.
Mobile first: "Mobile first" development aims to offer a complete experience on any device, smartphone, tablet or PC. This is a challenge for developers who must "think mobile" at every stage (UX point, mobile-specific behaviour, mock-up, coding, etc.). So, how do you develop "mobile first"? By designing interfaces for all screens through CSS Breakpoints, flexible BootstrapVue components, virtual mobile devices (Android SDK AVD), etc.
An ever-evolving platform
A software publisher's job is never done! This new webmail will continue to grow and improve with new ideas and features in upcoming versions:
Extended collaborative features to integrate videoconferencing, chat, CTI, etc. features and solutions more effectively for users,
Federating BlueMind platforms to facilitate the management of large numbers of users,
Improved overall resilience and optimised update and operating processes to minimise the impact on users, e.g. making some updates or service restarts transparent,
Interfaces with partner solutions.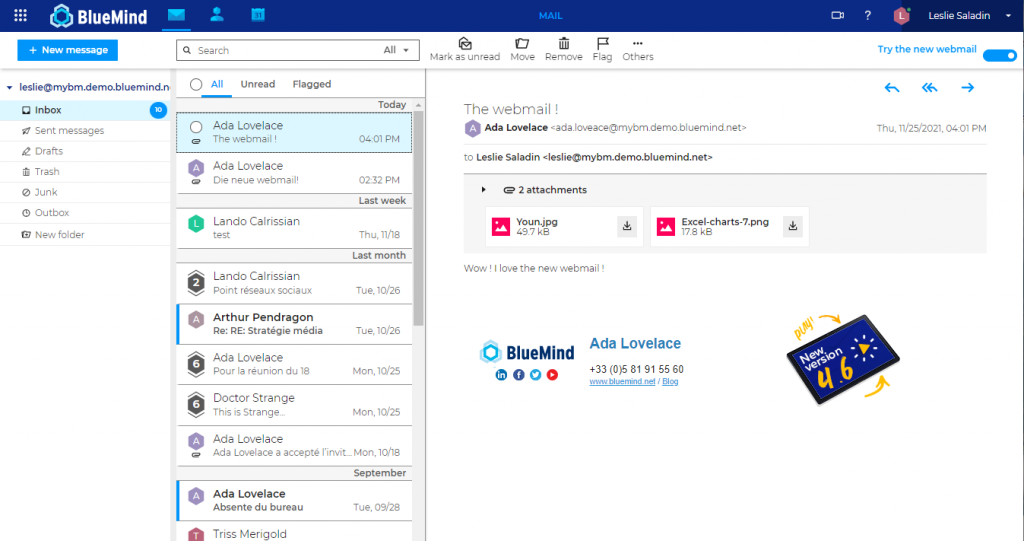 In conclusion
Email is the most-used tool in the professional sphere. An executive spends 5 to 6 hours on it daily to process 120 received emails on average. Contracts, documents, invoices, appointments, absolutely everything goes through email. Enabling organisations to break free from the proprietary US solutions that dominate the market only makes sense if user comfort and satisfaction are respected.
When confronted with the issue of mail migration, decision-makers would like to be free to make choices that comply with their organisation's strategy, but end up having to prioritise user acceptability.
BlueMind resolves this conundrum by offering the only solution that offers an excellent user experience for all uses:
100% UX designed webmail that provides the same usual advantages of thick clients,
The only natively Outlook-compatible solution,
The best Thunderbird support,
Mac OS,
Mixed scenarios that combine several types of use.
The Choice Is Here!